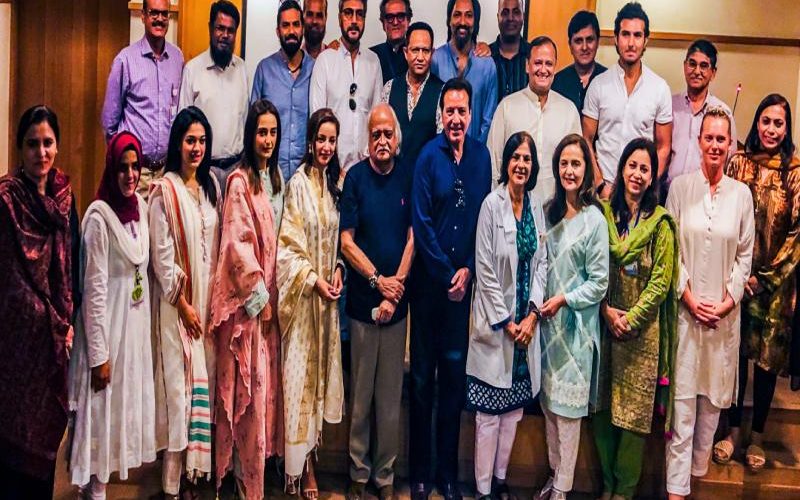 Karachi, Pakistan
October 24, 2019
Artist have the most sensitive souls. They deeply feel the pain and joys of life and portray these emotions through their characters, songs, and other mediums of expression. Their performance not only provide entertainment but it also shapes the societal conscience. Because of their power to influence people, many artists are becoming champions of social causes and they consider it their responsibility to help reform the society and support their fellow beings.
Some of Pakistan's most inspirational celebrities visited the Indus Hospital on October 24, 2019 and learnt how the Indus Hospital came into existence, how it sustained its free-of-cost treatment mission, and what impact it is making on Pakistani society.
The participants included: Anwar Maqsood; Javed Sheikh; Momal Sheikh; Shehroz Sabzwari; Adnan Siddiqui; Hina Khwaja Bayat; Sanam Jung; Sarwat Gillani; Shaneira Akram; Babar Sheikh; Immu; and Shoaib Mohammad.
Dr. Abdul Bari Khan, Chief Executive Officer, Indus Health Network; Dr. Zafar Zaidi; Dr. Akhtar Aziz; Dr. Amin Chinoy; Mashhood Rizvi; Dr. Mohammad Fareeduddin; Dr. Farah Bari, and others greeted the celebrities.
Dr. Bari took them through the memory lane and told them the Indus saga. The participants watched a heart-wrenching story of a dog bite victim and learnt about the most pressing healthcare issues. They were also presented with the causes they can support.
Veteran writer, satirist, anchor, and actor Anwar Maqsood addressed the audience and assured of his support for the cause. He said, 'I am dedicating my time for the mission of the Indus Hospital and I request my fellow artists to join the cause'.
Javed Sheikh also spoke at the occasion. He was impressed to know the social change that Indus Hospital is causing. He also pledged to support the hospital.
Adnan Siddiqu is an existing ambassador of the Indus Hospital and has supported in the fundraising mission. He also promised to continue his support. At the end of the event they visited hospital areas and met patients.