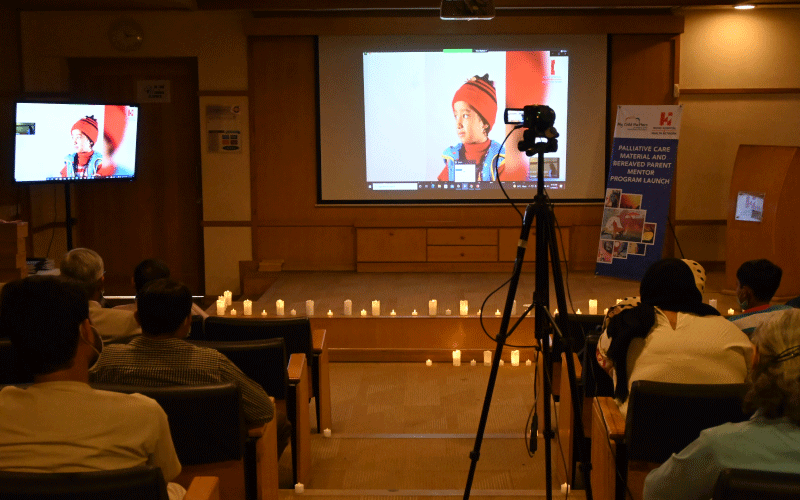 Indus Hospital & Health Network (IHHN) announced the publication of its Palliative Care Material & Bereaved Parent Mentor Program at an event held at the Korangi Campus on Thursday, February 10, 2022. The handbook publication and videos were a joint effort of IHHN in collaboration with the Sanofi Espoir Foundation.
The launch was attended by multiple health care professionals from different institutions all around Pakistan, along with Bereaved parents and families. Attendees included Dr. Zafar Zaidi, Senior Executive Director of IHHN and Dean of Indus University of Health Sciences; Dr. Saima Saeed, Director of the Lung Health Program, IHHN; Dr. Naila Baig Ansari, IHHN; Dr. Saima Saeed; IHHN; Dr. Shamvil Ashraf, IHHN; Dr. Ashraf Alam, IHHN; and Dr. Muhammad Rafi, IHHN.
In addition, esteemed doctors and faculty from Aga Khan University Shaukat Khanum Memorial Cancer Hospital were in attendance, including Dr. Atif Waqar, Aga Khan University; Dr. Rasham Shahzadi, St. Jude Children's Research Hospital; and Dr. Alia Ahmed from the Children's Hospital, Lahore.
The bilingual handbook and videos are part of a program that aims to help and train healthcare workers about Palliative care.
The material launch received an overwhelming response and was appreciated by all the attendees.
About Health Information Material at IHHN
Health information material provides information to patients to encourage participation in their healthcare. The Indus Hospital & Healthcare Network is constantly striving to improve healthcare indicators of the country by not only providing free and quality treatment but also raising awareness.
The Health Education Material section houses educational resources for you and your family booklets, videos, and leaflets about some pressing healthcare issues.