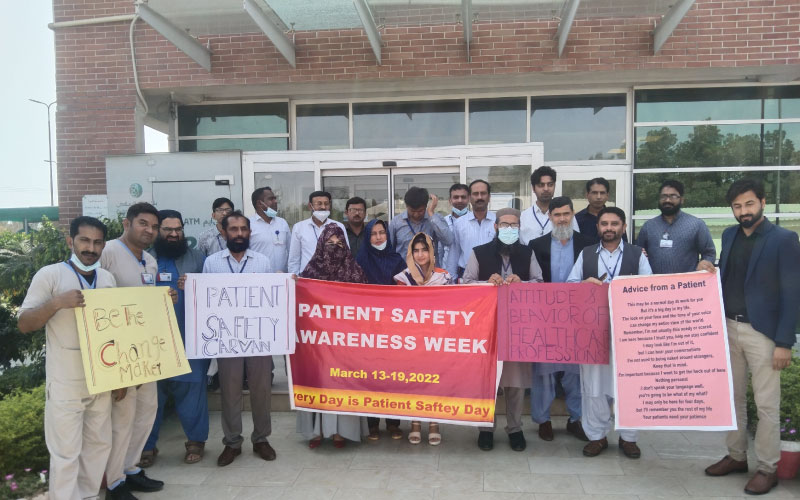 Patient Safety Awareness Week from 13-19 March 2022 has been celebrated in Recep Tayyip Erdogan Hospital (RTEH) Muzaffargarh.
This week's celebration aims to recognize the services of health care professionals. In addition, it encourages them for their best efforts regarding patient safety and care, and raise awareness about patient rights.
QIPS (Quality Improvement and Patient Safety Department), RTEH Muzaffargarh, in collaboration with Clinical Services and Nursing Services, organized awareness Seminar, walk, and training sessions.
Healthcare professionals, patients, and visitors were engaged in providing awareness regarding the prevention of adverse events and promoting patient safety.
During the seminar session, the Head of Operation Waqar Ahmed explained how good manners, empathy, compassion, and guidance are is our core Islamic duty, and it is a patient right. A gesture as simple as a smile can help reduce a patient's mental stress and anxiety.
During the awareness walk, Head of Campus Dr. Irfan Javed addressed the nurses, security, and healthcare professionals. "A few moments of adoption and empathy with the patient is the best technique to overcome his anxiousness. He encouraged all the staff for their best doing in their fields."
Training sessions were also imparted to train the nurses, security, receptionists, and pharmacy staff on dealing with the patients with a professional attitude and behavior. The training discussed the usage of high-alert medicine, risk awareness topics, and patient safety goals.