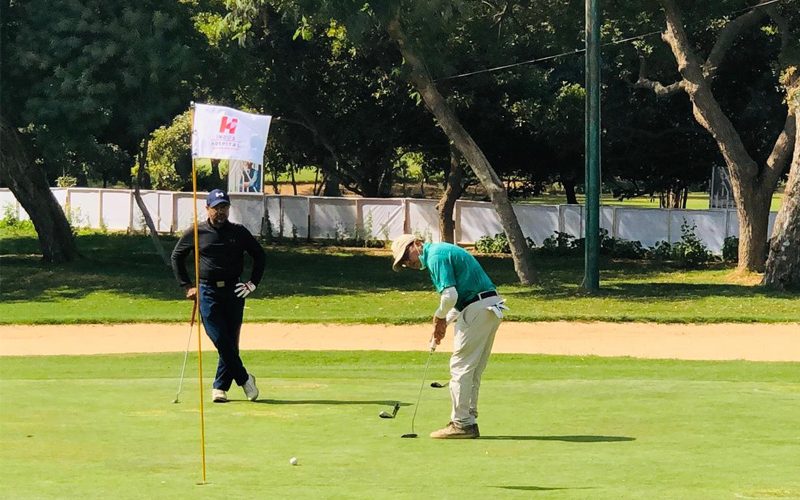 Indus Hospital and Health Network Hosts 6th Annual Karachi Golf Tournament
One hundred and forty-four golfers participated in 18 holes of scramble golf at the Karachi Golf Club on February 7, 2021, to raise funds for the Indus Hospital and Health Network (IHHN)'s Maternal and Neonatal Child Health (MNCH) services.
"In Pakistan, Maternal and Neonatal Child Health is amongst one of the most neglected areas of healthcare. Pakistan has a neonatal mortality rate of 54/1,000 live births, which accounts for 57% of the under-five mortality. Pakistan is amongst the poorest pregnancy outcomes worldwide, making it significantly worse than many other low-resource countries," Dr. Farah Bari, Deputy General Manager, The Indus Hospital Sheikh Saeed Memorial Campus (SSMC), Karachi said while addressing the event.
Comprehensive neonatal services are not available in most parts of the country and are mostly concentrated in big cities, with little or no attention paid to the standard or the quality of care being provided. More often, the cost of such services is too high for an ordinary salaried person to bear. The Sheikh Saeed Memorial Campus is the maternal, and neonatal, hospital owned and managed by IHHN has been providing free-of-cost services since 2015. It provides quality care, which has constantly been upgraded.
"Pakistan has very few hospitals which have neonatal services and those facilities which do provide these services are very expensive.  To counter this, in 2017 we started the NICU. We are also working on a safe delivery program along with family women, which we believe is very important along with a number of other projects as well," Dr. Farah added.
IHHN is completely aligned with many of the UN's Sustainable Development Goals as part of its overall vision and mission with the provision of basic healthcare to all. With its free-of-cost services spread across the country through its network of hospitals and primary care and outreach programs, Indus caters to every segment of the society.
Goal 3.1 talks about reducing the "global maternal mortality ratio to less than 70 per 100,000 live births" by 2030, while 3.2 talks about ending of "preventable deaths of newborns and children under 5 years of age, with all countries aiming to reduce neonatal mortality to at least as low as 12 per 1,000 live births and under-5 mortality to at least as low as 25 per 1,000 live births."
The MNCH Program has been an integral part of the Network's Primary Care Program (PCP) as well. The PCP provides immunization; deworming; family planning; lactation management; and nutrition; to the local community across the country.
The Network is actively working towards reducing maternal mortality, neonatal mortality, and early childhood deaths. Its services at SSMC in Karachi — an 81-bed dedicated hospital for MNCH services and its public health initiatives have saved hundreds of lives as well as benefitted thousands of women and neonates.
Over the last five years, over 30,000 neonates have been delivered by C-sections and normal deliveries at SSMC, 70,000 women were being attended as out patients' and over 5,000 neonates were catered in NICU. While at Network more than 78,000 deliveries were conducted, and more than 400,000 consults were given. The Network's Midwifery Program in Bhong, last year conducted 300 safe births was the latest initiative by IHHN.
Speaking about the new initiatives taken at SSMC and other parts of the country under the Network's PCP, Dr. Farah said these included mass screening of cervical cancer in women between 30 to 50, and nationwide birth and mortality registration.
"We are also expanding our Midwifery Program by integrating PCP sites with tertiary care hospitals. We are planning to initiate the Community Midwifery Program with the School of Nursing," she said, adding the Network is focusing on training and development of our HCWs has always been our top priority.
On SSMC's future plans, Dr. Farah shared they were planning on adding seven delivery/operating rooms and increasing the hospital's bedding capacity to a 54-bed ward, 18 high-dependency beds, and two isolation rooms.
Additionally, the IHHN's Lahore campus — QF & NST — which will be a 600-bed facility catering to the city and adjoining areas will also be offering all Obstetrics and Gynecology services with a 61-bed ward, six high-dependency unit beds, three isolation beds, and two delivery rooms.
At the end of the event, Dr. Abdul Bari Khan, CEO, Indus Hospital, and Health Network thanked the golfers, sponsors, and volunteers who with their generosity helped make the tournament an exciting and successful fundraising event.
Chairman IHHN Abdul Karim Paracha said, "The golf tournament which we started six years ago has now grown with 144 golfers participating this year. Golf has brought the community together and I am thankful to every golfer who participated. I hope we will have your [golfers] support as we aim to hold a bigger event next year."
Syed Mashhood Rizvi, Executive Director, Communication and Resource Department delivered the vote of thanks.
Renowned film and TV actor and Indus Hospital's Ambassador, Zeba Bakhtiar was the guest of honor at the event. She was presented with the ambassador shield at the event by Dr. Bari and Dr. Farah Bari.
"It is an honor for me to be here. I wanted to be involved with a cause for many years and then someone suggested I look at the work Dr. Bari does. That day and today and I have not looked back. I am thankful for the work he and his organization does," she said.
Bridging the gap between the IHHN's work and the golfing community, the event provided a networking opportunity to the golfing community and to further the cause of the Indus Hospital and Health Network.
This year's tournament winner were Mohammad Shahid and Moazzam Slaeem.
The runner-up team was composed of Jarjees Seja and Abdul Rehman Badar.
Naveena Steel was the title sponsor of the event and ARY Digital was the exclusive media partner. PSL 2019 winners Quetta Gladiators were the CSR partners.
Indus Hospital and Health Network
Initiated by a group of professionals with the support of some philanthropists and businessmen, in 2007, The Indus Hospital started its journey with a purpose to provide indiscriminate, quality healthcare to all in a state-of-the-art, paperless, 150-bed hospital in Korangi, Karachi.
The Hospital has now evolved into the Indus Hospital and Health Networkwhich is managing 12 hospitals across Pakistan. The Network also has a country-wide network of primary care clinics and outreach programs.
The Indus Hospital, Korangi Campus, Karachi is being expanded to a 1,350-bed facility while a state-of-the-art, 600-bed tertiary care hospital is being constructed in Lahore. Both hospitals are associated with the Indus University of Health Sciences.
IHHN is running four physical and rehabilitation centers in Karachi, Lahore, Muzaffargarh, and Badin. The hi-tech blood center of IHHN has four regional blood centers in Multan, Bahawalpur, Jamshoro, and Karachi.