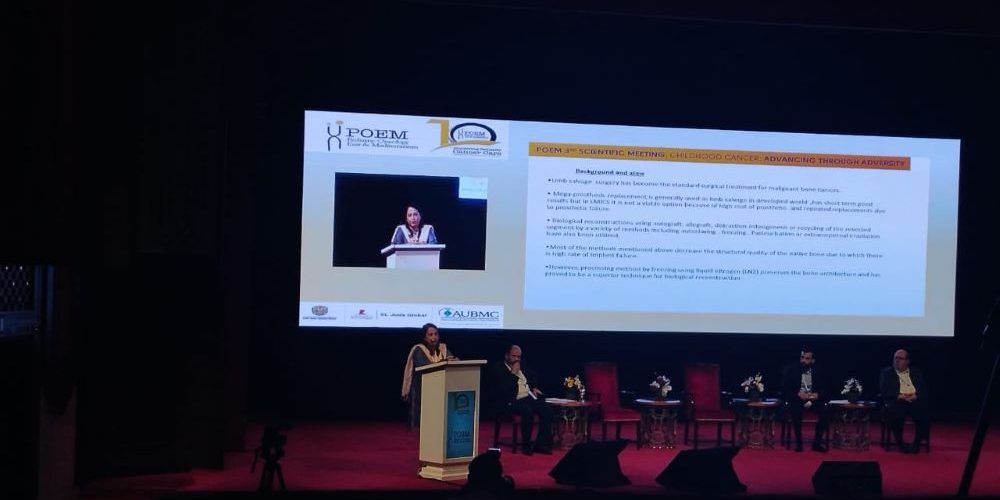 For its remarkable work in improving quality pediatric oncology care in Pakistan, Indus Hospital and Health Network was awarded winning positions at the Pediatric Oncology East and Mediterranean's (POEM) 3rd Scientific Conference "Childhood cancer: Advancing through Adversity."
The conference took place in Muscat, Oman, from March 3-5, 2023. It was organized by the POEM group, St. Jude Global (SJG), Sultan Qaboos University (SQU), and the American University of Beirut (AUB). IHHN's retrospective study on Biological reconstruction using liquid nitrogen in pediatric patients was awarded the third position amongst hundreds of submissions. In addition to this, IHHN's poster presenting the positive impact of the My Child Matters (MCM) grant – re-awarded to IHHN– on the holistic care provided in pediatric oncology units, was also appreciated by all participants in the conference during post-exhibition.
The Pediatric Oncology East and Mediterranean (POEM) is a collaborative pediatric oncology regional group that was established in 2013. It provides a cooperative platform for physicians, scientists, and healthcare professionals hailing from the Middle East, North Africa, and West Asia region, to share their experiences, initiate cooperative trials, and establish common strategies to continuously improve the healthcare available for children with cancer.
As one of the leading tertiary childhood cancer facilities in Pakistan, Indus Hospital and Health Network is dedicated to ensuring free-of-cost, holistic, quality care to all children in need. IHHN's Pediatric Oncology services, a dedicated 85-bed facility started in 2014, comprises out-patient clinics, general wards, an oncology day care unit, a dedicated emergency unit, a covered outdoor play area, psycho-social and counseling services, and a hospital-based school 'Indus Kay Sitaray'.
Indus has also started satellite pediatric oncology clinics at District Headquarter Hospital, Badin in Sindh, and Sheikh Khalifah Bin Zayd Hospital in Balochistan to facilitate patients for early diagnosis and patients on maintenance. To date, more than 12,000 children have been treated for cancer and blood diseases across the Network.
IHHN collaborated with the world's premier pediatric cancer research center – St. Jude Children's Research Hospital (SJCRH) – as one of their partners to work towards SJCRH's global efforts to increase access to pediatric oncology services across Pakistan. IHHN also strives to play an important role to influence and develop national policies to ensure the availability of better facilities to serve children affected with cancer.
These achievements would not have existed without the hard work and dedication of all involved, including Muhammad Amin Chinoy, Executive Director, Physical Rehabilitation Directorate; Dr. Muhammad Shamvil Ashraf, Executive Director, Medical Services Directorate; Dr. Muhammad Rafie Raza, Head of Department, Pediatric Oncology; Nida Zia; Syed Ali Anwar Jilani, Lead Sarcoma Surgeon; Natasha Baig; Salman Javed, Orthopedic Surgeon; Kamran Ahmed, Orthopedic Surgeon; Wasfa Farooq; and Bashir Ahmed Khan.
Indus Hospital and Health Network is grateful to POEM Group for acknowledging IHHN's remarkable work in advancing holistic quality childhood cancer care in Pakistan.
RESEARCH STUDY – THIRD POSITION
Biological Reconstruction Using Liquid Nitrogen in Pediatric Bone Tumour Patients – A Review of Early Outcomes in a LMIC
Nida Zia, Syed Ali Anwar Jilani, Natasha Baig, Salman Javed, Kamran Ahmed, Muhammad Amin Chinoy, Muhammad Rafie Raza
Background: Limb-sparing surgery has become the standard surgical treatment for malignant bone tumors that require removal and reconstruction. Although Mega-prosthesis is a successful non-biological reconstruction technique, it is expensive, mostly inaccessible, and is associated with late health complications. In comparison, biological reconstruction using liquid nitrogen has proven to be a better and more cost-effective technique. Its advantages include, short treatment time, perfect fit, easy attachment of tendons and ligaments, osteo-conduction, and desirable bone stock
To study this further, a retrospective study was conducted by IHHN to determine early outcomes of bone tumors reconstructed with liquid nitrogen since 2018. Thirty children under 18 years of age with non-metastatic disease who underwent limb salvage surgery and liquid nitrogen reconstruction were enrolled. Patient medical records were accessed to assess clinical outcomes, and data was analyzed using SPSS version 23.
The types of cancer present in the enrolled patients were: osteosarcoma, Ewings sarcoma, and chondrosarcoma. Approximately 50% of the children completed treatment and are currently alive. The remaining either remained on chemotherapy, relapsed during follow-up, abandoned treatment, or passed during the course of the study.
Results: The study found that reconstruction using liquid nitrogen is a promising treatment option that yields fewer relapse rates for LMICs.
POSTER PRESENTATION
Impact of the MCM Grant on Holistic Care in Pediatric Oncology Units in LMIC
Muhammad Rafie Raza, Wasfa Farooq, Bashir Ahmed Khan, Muhammad Shamvil Ashraf
Background: Current barriers to improving the childhood cancer survival rate in LMICs are several in number and include lack of public awareness, inaccessible quality holistic care, delayed diagnosis & treatment, patient abandonment, and absence of a national action plan. To address these challenges, IHHN was re-awarded the My Child Matters (MCM) Grant by Sanofi Espoir Foundation in 2019.
Under the grant, IHHN worked with stakeholders to improve and build capacity in 8 public-sector pediatric oncology units (POU) in Pakistan. The team collected a detailed record of each facility's patient care, chemotherapy preparations, data management, human resources, nursing standards, infection control standards, and hand hygiene while taking into account the specific local challenges faced by the facilities. During their visits, the team launched educational initiatives with goals and timelines for each POU with constant communication and mentoring with nursing and physician educators.
Results: Out of the eight POUS, six showed drastic improvement in the baseline nursing standards. Each POU now has a dedicated infection control nurse enrolled in a diploma sponsored by the grant, and regular tumor boards and case presentations were initiated through IHHN-provided telemedicine equipment. In addition, three units are now equipped with full-time psychologists for the benefit of the patients and their families. Childhood cancer registry data is maintained by grant-appointed operators.
To advance and maintain the quality of care for children with cancer in Pakistan, the establishment of a widespread partnership model and a national action plan is essential.