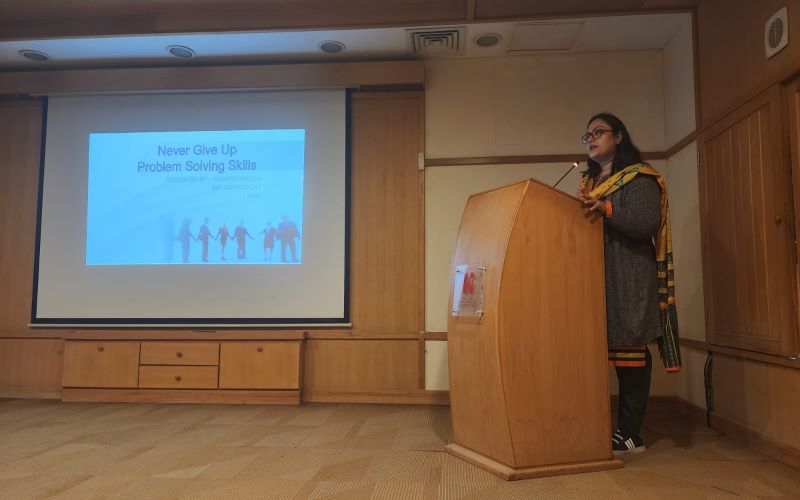 Hosted by Indus Hospital & Health Network's (IHHN) Cochlear Implant Program, Ehsaas Ka Safar 2.0 – a parental training series – recently held its fourth session on January 20, 2023. Led by the ENT department's Psychologist, Ms. Humaira Kaleem, the session educated the parents of children with a Cochlear Implant on practical problem-solving skills.
Ehsaas Ka Safar 2.0 | Background:
While working with patients from various socio-economic backgrounds, the Cochlear Implant Program at IHHN discovered a need for a Parental Training Workshop Series, as parents must work with their children at home to ensure their ongoing development. To meet this need, the program started Ehsaas Ka Safar 2.0, a monthly series of training workshops to teach parents effective management techniques. The series is sponsored by Oriental Sales Cooperation.
"Ehsaas Ka Safar 2.0"'s earlier workshops discussed problems encountered while parenting children. The topics in previous sessions were The ABC of parenting, How to discipline a stubborn child, and Maternal mental health's influence on the child. While all the problems were discussed and addressed, their solutions were yet to be given.
This month's session taught participants practical problem-solving skills. A discussion was held on the difference between problems & solutions, the standard set on solving problems versus how problems should be handled on an individual level.
Session Activities:
The session started with a discussion on the five (05) steps involved in problem-solving:
Define the problem
Root-Cause analysis
Countermeasure development
Implementing solutions
Evaluation & follow up
Parents were also taught how to help their children develop independent problem-solving skills. This includes encouraging their child, and teaching them how to identify a problem, find a solution, and take adequate action.
A discussion on the "Nine Key Strategies for Raising Children Who Make Responsible Choices" followed.  This section included activities that emphasized the importance of play in a child's development and how parent interactions can help the child make responsible choices.
As part of a group discussion, parents were asked about their child's tantrums. Ms. Kaleem helped them identify the trigger and guide them by giving some creative methods through which parents can encourage their children to express their feelings. The session helped participants understand that temper tantrums result from holding the child to high expectations and inconsistency in parental attitude. To avoid this, parents should provide children quality time and prepare them for adulthood. Good parental support in childhood results in good support from the child in the future.
The session concluded with a deep-breathing relaxation exercise which helped participants learn how to shut off their fight-or-flight mode and remain rational when dealing with their child's behavioral concerns and tantrums. This way, parents can identify their child's misconduct triggers and deal with them using effective strategies instead of responding with aggression and anger.
The final message on which the session ended was, "To discipline the child, parents need to discipline themselves."