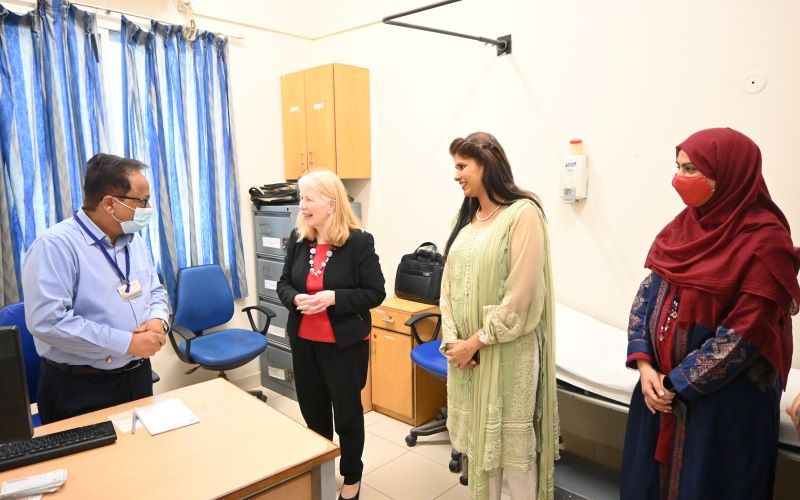 Professor Kay Mohanna, a General Practioner (GP) trainer and Professor of Values Based Healthcare Education at the University of Worcester, visited the Indus College of Family Medicine and Public Health (ICFMPH) on March 15, 2023.
She was received by Dr. Zafar Zadid, CEO of IHHN, Dean of IUHS, and Prof. Faridah Amin, Principal, ICFMPH. During her visit, she toured the Indus University of Health Sciences – in which ICFMPH is operational – and the family medicine clinics at Indus Hospital, Korangi Campus. She appreciated the efforts of IHHN leadership and faculty in promoting Family Medicine as a primary care specialty.
Professor Mohanna has a wealth of experience in the areas of Family Medicine and Medical Education worldwide and is currently the international development advisor for the Royal College of GPs for the membership of the Royal College of GP's international exam. At Indus, Professor Mohanna is on the advisory board member of the Indus College of Family Medicine and Public Health and is helping to advance the quality of education taught and received at the college.
Commenting on her role at ICFMPH, Professor Mohanna said, "What's happening in Indus is fantastic and incomparable in terms of training for new family physicians. I'm currently teaching the Teaching the Teachers course. One of the key ways to set up a proper training environment is to make sure you have proper trainers. The department is working really hard on that and already has a big cadre of very experienced trainers."
She went on to highlight the importance of Family Medicine, stating that universal health coverage – one of the mission objectives of IHHN – cannot be successful without a strong primary care sector with fully trained family physicians who are able to manage unfiltered care.
"Patients can come in with anything, so it is really crucial to have a set of people who have the skills to differentiate and signpost patients to other areas." This is important in reducing the burden on other specialized areas of healthcare and protect them from an unnecessarily large patient volume that could exhaust an already resource-limited sector.
Professor Mohanna went on to elaborate on how ICFMPH is helping to strengthen the field of Family Medicine in Pakistan.
"The ICFMPH is an institute with exceptional leadership. There is a facilitative and collaborative approach here to bringing expertise from wherever it is found and the benefit is ultimately for the patients. Indus is also taking the brightest and best and helping them advance their skills and impact. You have excellent faculty here who understand the holistic nature of what it is to be an excellent family medicine physician."
At the end of her visit, Professor Kay Mohanna was gifted a shield of appreciation in recognition of her efforts and her contribution to the field of Family Medicine.