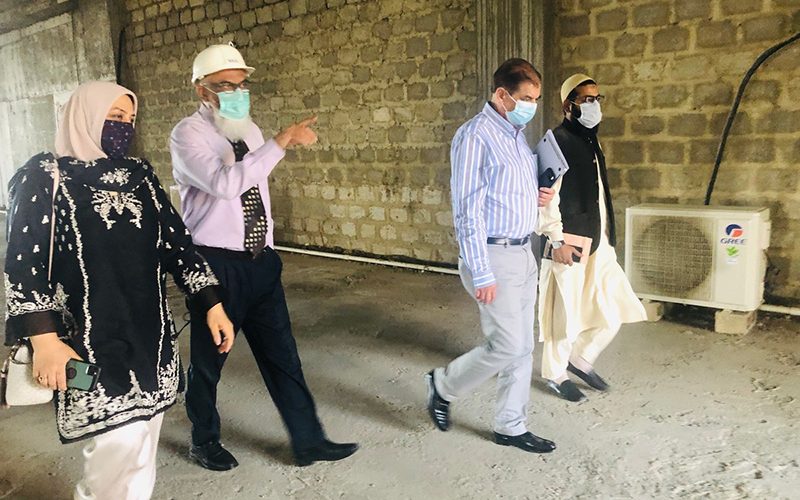 What a year 2020 has been; unpredictable and happening. The last year started on a promising start but was followed by the COVID-19 outbreak which quickly swept across the entire world, imposing a global emergency.
In these challenging times, the Indus Health Network's international affiliates in the UK, USA, Canada, UAE, and Australia helped the Network be the beacon of hope for millions of Pakistanis through their activities.
The Indus Health Network UK (IHN UK) actively participated in organizing a virtual meetup for expat Pakistanis within the European Union. This exclusive meetup was setup via zoom featuring Dr. Abdul Bari Khan for expatriate Pakistanis within the UK to inform them about the endless contributions of The Indus Hospital in Pakistan.
Moreover, IHN UK received more than £165,000 from HM Revenue as Gift Aid against the donations made by the generous UK taxpayers.
Dr. Mateen Durrani, Chairman, IHN UK, visited Karachi and took an extensive tour of the entire facility to experience the life-changing treatments that are provided free of cost to the needy.
Friends of Indus Hospital (FOIH) & Indus Development Foundation (IDF) celebrated "Giving Tuesday" to raise money for chemotherapy sessions for childhood cancer patients.
FOIH & IDF were able to collect a huge amount, which was then matched by a generous donor to double the impact of every penny donated.
The COVID-19 pandemic restricted the possibility of arranging on-ground activities, but this did not stop FOIH & IDF from raising awareness about the mission of IHN. Two interactive live sessions were conducted to update the North American and Canadian donors about the Network's latest contribution featuring Dr. Abdul Bari, Dr. Shahid Umer, President FOIH, and Pakistani media personalities Behroze Sabzwari, Honey Albela, Wasi Shah, Shafaat Ali, and Ahmer Mohmmad.