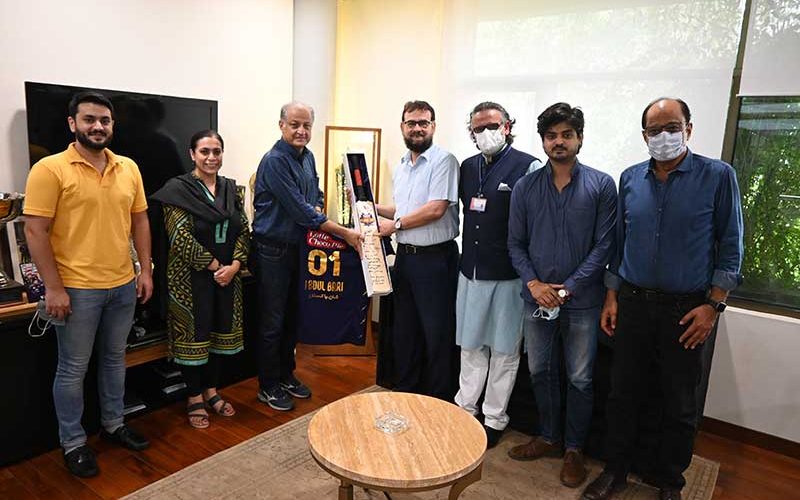 KARACHI: Pakistan Super League (PSL) team Quetta Gladiators' owner Nadeem Omar presented Dr. Abdul Bari Khan, CEO of Indus Hospital & Health Network (IHHN), with an official team jersey and a souvenir bat signed by the Quetta Gladiators' cricket squad in a ceremony held at their Karachi office.
The ceremony
Speaking at the ceremony, Nadeem Omar said, "Today is a big day for the Quetta Gladiators, and we are honored that the IHHN team, including the great Dr. Abdul Bari Khan, came to our office. We are collaborating with the IHHN and making several programs to further this noble cause by providing free, quality healthcare for all. I hope you all please pray and contribute to the cause."
About Quetta Gladiators
Quetta Gladiators is a Pakistani professional T20 cricket franchise that competes in the Pakistan Super League. The team is based in Quetta, the provincial capital of Baluchistan, Pakistan. The franchise was established in 2015 as a result of the formation of the PSL by the Pakistan Cricket Board.
Collaboration between IHHN and Quetta Gladiators
In February 2021, IHHN signed an MoU with Quetta Gladiators to become their Corporate Social Responsibility Partner. The organizations will collaborate to benefit the underserved patients of the country who come to the hospitals, clinics, physical rehabilitation centers of IHHN to receive quality and accessible healthcare services.