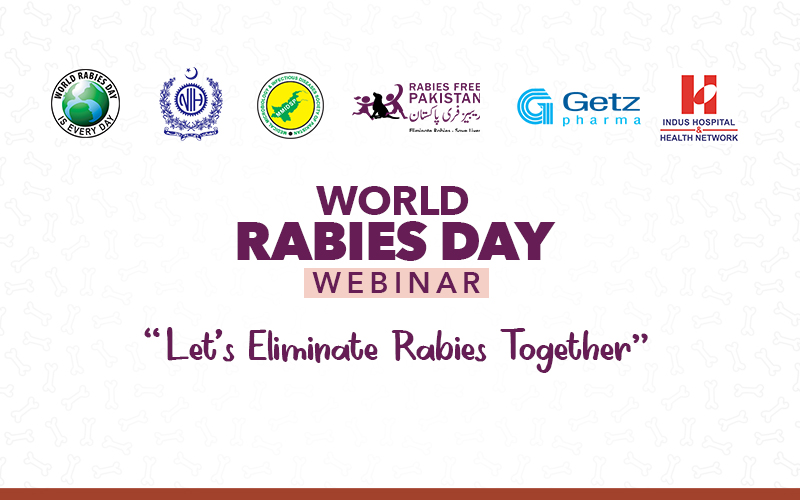 Rabies Free Pakistan (RFP) held a webinar on September 22 to commemorate the World Rabies Day 2021. The webinar was attended by government representatives in Islamabad, bureaucrats, health professionals, members of WHO, and animal rights activists from around Pakistan.
Rabies Free Pakistan is a joint venture of Getz Pharma Private Limited and Indus Hospital & Health Network (IHHN). It was established with the objective of eliminating Rabies from Pakistan. RFP project, an initiative of Getz Pharma and IHHN, was inaugurated in 2018. It is geared towards the eradication of rabies from Pakistan by 2030 (Zero by 30) using the One Health Approach.
The Webinar Session
Major General Amir Ikram, Executive Director, National Institute of Health, Islamabad started the session with an opening note. In it, he presented an overview of the rabies issue in Pakistan.
Representatives of all provinces briefed the audience on the status of their respective provinces. In the second session, 'One Health & Strategic Planning', health and environment experts talked about the impact on the human ecosystem.
Dr. Naseem Salahuddin, Head of Department of Infectious Diseases, IHHN, and Member WHO Expert Panel for Rabies emphasized that Pre-Exposure Prophylaxis (PEP) against dog bites is being given incorrectly by healthcare workers (HCWs) due to lack of awareness and training of the new World Health Organization (WHO) guidelines. "For Rabies prevention clinics with a high number of dog bite victims in low and middle-income countries, it is essential to train HCWs to follow the 2018 PEP guidelines that promote a low-dose intradermal schedule spread over one week," she shared.
Dr. Naseem added that the use of Rabies immune globulin in severe wounds. "This has proven to be highly effective in preventing rabies, as well as economical and affordable for such clinics," she added.
Aftab Gohar, Manager of IHNN's PEP Clinic, presented the RFP's origin and the work they have been performing daily in parts of Karachi to vaccinate and surgically sterilize stray dogs. He explained that the RFP program follows international standards and WHO-approved protocols for this program in Pakistan.
"The is not just to eliminate Rabies, but also to control the dog population. The RFP team is working on all fronts, including advocacy and policy level, to ensure that all stakeholders currently involved in dog culling in Pakistan undergo a paradigm shift towards humane methods of vaccination and animal birth control (spaying and neutering) to control the dog population.," he added.
Rabies Free Pakistan team has achieved various milestones in the fight against Rabies after successfully scaling up project operations. It has vaccinated more than 30,000 dogs and neutered around 7,000 dogs since 2018.
The concluding remarks were given by Dr. Faisal Sultan, Special Assistant to Prime Minister Pakistan, on the importance of making Rabies a notifiable disease, adopting a strong surveillance system, and policy interventions for a national strategy to deal with Rabies prevention.