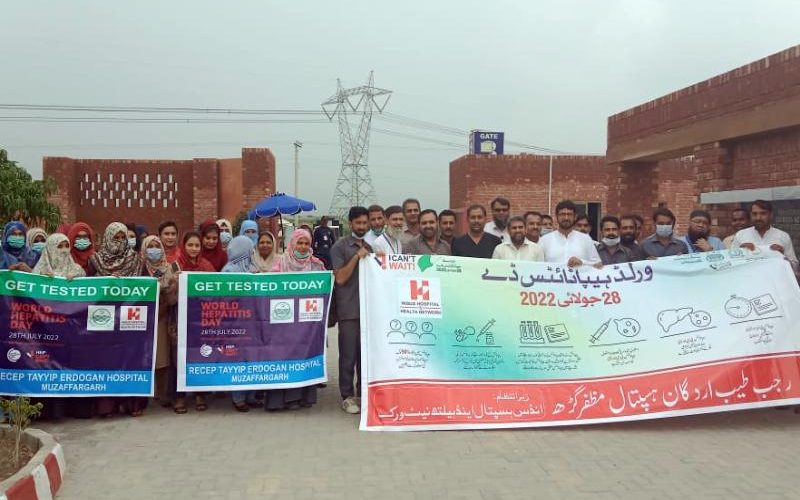 World Hepatitis Day is celebrated on July 28, around the world, in which people are given awareness about Hepatitis so that they can get their screening and vaccination while being healthy and may play a healthy role in the society. To achieve the same goal, Hepatitis Awareness Day was also celebrated at Indus Hospital & Health Network's Recep Tayyip Erdogan, Muzaffargarh, in which doctors, nurses and other support staff participated.  Patients in the hospital were educated about the hepatitis disease, causes, symptoms and its treatment.
Dr. Mubashir Khan, Manager OPD Services, said, 'most of the people in our country are suffering from hepatitis but they don't know because they look healthy and hepatitis has affected their liver silently. However, it is treatable and can be cured if timely diagnosed. He added that everyone should get screened for hepatitis and if they don't have hepatitis B, they should get the preventive vaccine which consists of three doses. If a patient is suffering from Hepatitis C, he should complete his treatment. Hepatitis diagnosis and medicines are very expensive in Pakistan, but RTEH provides its treatment absolutely free with the support of Government of Punjab.
Dr. Rashid Kamal said that Hepatitis B and C transmits from person to person through blood transfusions so blood should not be injected unnecessarily. A part from this, in case of any illness, one should consult a qualified specialist doctor, instead of going to a street quack.  Used syringes, tools used while shaving or hair cutting, nose and ear piercing by women with used needles are the main causes of transmission of this disease. While public should take such precautions, health care professionals should also use their PPEs to protect themselves and their patients.  In particular, nurses should be careful while administering injections to patients and lab staff should be careful while taking blood samples to ensure their own safety. Surgeons and Dentists should also properly sterilized their instruments.
On this occasion, Head of Operations, RTEH, Waqar Ahmad, said that RECEP Tayyip Erdogan Hospital Managed by Indus Hospital and Health Network provides free hepatitis diagnosis, treatment and vaccine with the support of Punjab Government and playing an important role in the mission of the Government of Pakistan 2030 Hepatitis Free Pakistan.  Hepatitis awareness walk was also conducted, aimed to create awareness among the public about Hepatitis. Faculty Chair, Dr. Shiraz Hassan, Manager, Administration, Ikram Javed and Manager Finance, Muhammad Ilyas, were also present at the occasion.