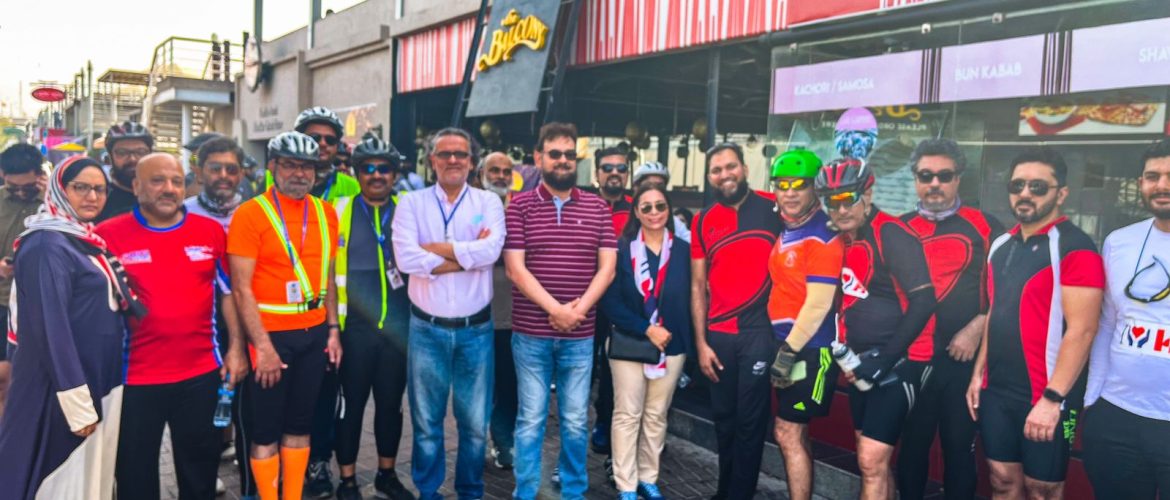 More than 300 cyclists cycled to support IHHN
March 20, 2022
Karachi, Pakistan
Indus Hospital & Health Network (IHHN) in collaboration with Critical Mass Karachi (CMK) and Port Grand hosted a cycling event on March 20, 2022.
With more than 300 cyclists from 11 cycling groups including: Cycologists, Eckoryders, Docs on Wheels, GG Riders, TGIF, PECHS Riders, KDA Riders, Freeriders, DD riders and Slow & Steady came together to ride across Karachi to spread awareness and show their support to IHHN. The ride started from three locations: Gulistan-e-Jauhar, Shahrah-e-Faisal and Clifton. The cyclists converged at the city center near Governor House and rode together to Port Grand. The cyclists were greeted with a loud of applause from their families and members of the IHHN management.
Speaking at the event, Salim Razzak Tabani, Chairman, Fundraising Committee of IHHN and Syed Mashhood Rizvi, Executive Director, Communications & Resource Development Directorate thanked all the cycling groups and riders for their support and urged them to help raise awareness and funds for IHHN in Ramazan and throughout the year.
Dr Abdul Bari Khan, CEO Indus Hospital & Health Network concluded the ceremony with a heartfelt speech, thanking the cyclists for being ambassadors for Indus and that their efforts would go a long way in supporting the Network and its vision of providing free and quality healthcare for all.