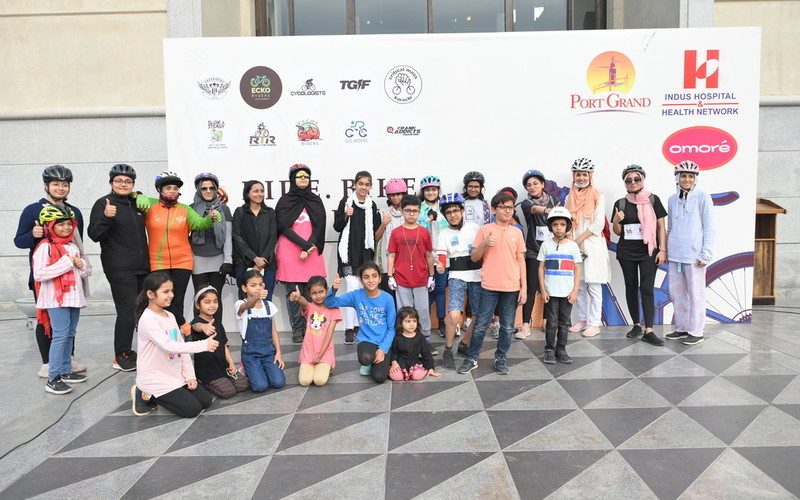 Indus Hospital & Health Network (IHHN), organized its Annual Cycling Event, "Ride. Bike. Save Lives. 2023," on March 12, 2023, in collaboration with Critical Mass Karachi (CMK), Port Grand, and Omoré. The event brought together more than 350 cyclists and helped raise awareness of IHHN's mission of providing free-of-cost, quality care to all in Pakistan.
Critical Mass is a series of bicycle rides in cities worldwide where cyclists hit the roads in massive numbers. Critical Mass Karachi aims to celebrate cycling and reclaim its share in the streets of Karachi. During the cycling events, they are also able to spread a message about the importance of being aware of cyclists.
Critical Mass Karachi helped rally over 10 cycling groups, including FreeRiders, Slow & Steady, Eckoryders, Respect the Riders, Cycologists, P.E.C.H.S Riders, TGIF, GG Riders, Critical Mass Karachi, and Crank Addicts Pakistan, to come together and ride across Karachi to spread awareness and show support for IHHN's noble cause. Upon reaching the finishing point at Port Grand, the riders were welcomed with hearty cheers and a loud round of applause from their friends, families, and members of the IHHN staff.
Speaking at the event, Afifa Batool, Head of Marketing & Communications, Communications & Resource Development Directorate, IHHN, thanked all those gathered, including the cyclists, cycling groups, and participating organizations, for their invaluable support.
Indus Hospital and Health Network is incredibly grateful for its donors, supporters, partners, and hardworking staff, whose strong backing enabled Indus Hospital to evolve from a single hospital in Karachi in 2007 to a nationwide network of healthcare facilities that is currently delivering free-of-cost, quality care to over 500,000 patients every month.
With the demand for accessible healthcare growing daily, this number is expected to increase exponentially. Mrs. Batool urged all gathered to continue helping IHHN remain a beacon of hope for the underserved and underprivileged by spreading its message to other potential donors and championing IHHN's cause in Ramazan and throughout the year.
IHHN is especially grateful to Port Grand for its wholehearted support, which included providing a venue and parking space for the cyclists and IHHN employees, arranging an audio setup for the cyclist engagement session at the venue, and arranging breakfast for all the participating cyclists. All were provided on a free-of-cost basis and helped make the event a great success.