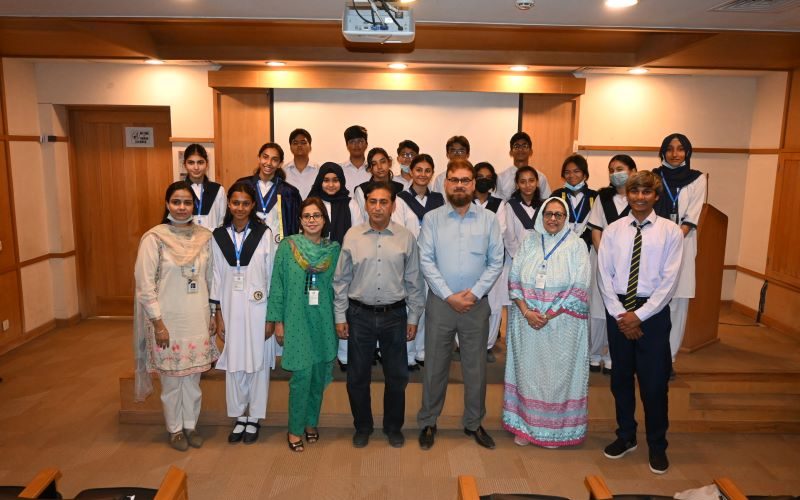 The students, staff, and management of River Oaks Academy visited Indus Hospital, Korangi Campus, on February 23, 2023.
During the visit, they toured the hospital and its pediatric wards. They spent quality time with the hospital's pediatric cancer patients, distributing gifts to the precious children to boost their morale, and also donated over 50 board games to the hospital's pediatric ward for the benefit of the children. In addition to this, the students earlier held a Winter Carnival to raise funds for the treatment of children with cancer. All proceeds from the event were donated to IHHN during their visit to the hospital.
The students also met with Dr. Abdul Bari Khan, President of IHHN, who urged the students to study hard, dream big, and have faith in the Almighty (SWT) in all their future endeavors.
Speaking at the occasion, Aasim Karim, Principal of River Oaks Academy, said, "Over the last couple of years, we have been supporting Indus Hospital and especially the pediatric oncology ward. It's very important that the youth of Karachi realize what organizations like Indus Hospital are doing and that we need to support them. I think this is a great opportunity for our students to get inspired. Down the road, this is what we are trying to encourage in our students and the youth of Pakistan: to give back to society."
Indus Hospital and Health Network is proud to partner with prestigious institutions, such as River Oaks Academy, whose generosity, compassion, and relentless support have helped provide quality care to countless deserving children and their families.