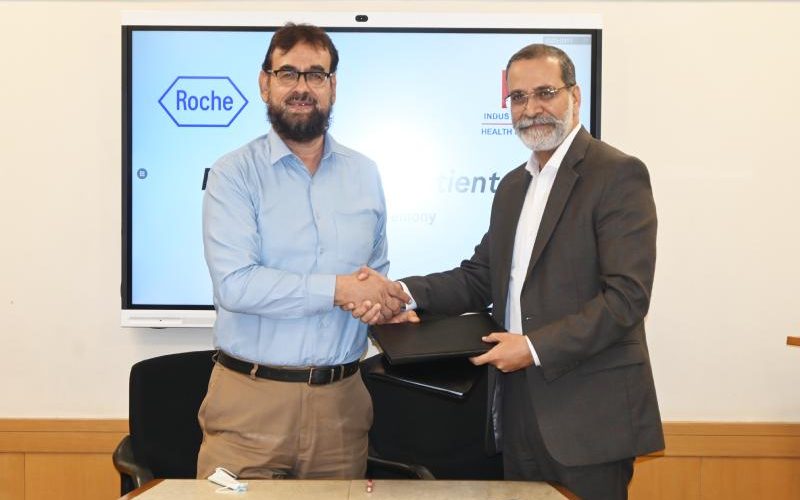 Pakistan is a country where resources are less. Hence, sustainable healthcare system is crucial in the fight against the spread of diseases.
To achieve this goal, Indus Hospital & Health Network (IHHN) signed an MoU with Roche Diagnostics Pakistan. According to this agreement, Cobas pure integrated solution analyzers will be installed at four outreach campuses of IHHN located in Lahore, Multan, Muzaffargarh, and Badin.
The installation of these systems will allow the final test menu to penetrate many cities. The cities are located in Sindh and Punjab, where the testing menu is currently limited. The Cobas pure integrated solution analyzers are made from the latest technology. These analyzers will enable more than 200,000 patients to be served through tests. The tests will be conducted annually across all four outreach sites. The Roche tests covers areas such as critical care, infectious diseases, oncology, cardiology, and endocrinology.
On this occasion, Dr. Abdul Bari Khan, CEO, IHHN, said, "IHHN is grateful for the cooperation from Roche Pakistan for setting up the advanced analyzers. This will contribute to the diagnostic services at our outreach campuses. We believe that it will significantly increase the number of tests conducted through this system. We value this exceptional contribution".
Such strong partnerships have always been a cornerstone of Roche's work. Roche's focus is on increasing local resources which they believe provides a sustainable way of addressing healthcare needs. This will also help build a resilient healthcare system for the future.
During the ceremony, Mr. Abdul Qayyum, Country Manager, Roche Diagnostics Pakistan, said, "I am extremely proud of our partnership with the Indus Hospital & Health Network. This partnership will pave the way for the underserved people to have access to reliable and timely testing solutions."
Reliable and high-quality screening is essential for a progressive healthcare system. The partnership between the IHHN and Roche Diagnostics Pakistan will enable access to world-class diagnostic services for underserved patients and communities.