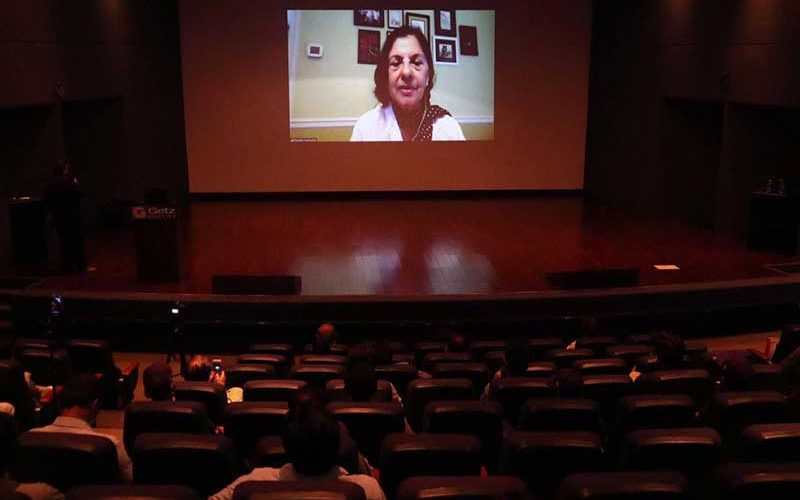 "It is estimated that 150 dog bites occur daily, in Karachi alone. At Indus, we see 50 to 60 cases a day. These are those patients which are brought to the hospital. Most cases and deaths from Rabies are not reported, since most patients are not brought to the emergency room." says Dr. Naseem Salahuddin, Head of Department of Infectious Diseases, Indus Hospital & Health Network (IHHN), and Head of Rabies Free Pakistan (RFP) program.
"Every year, around 50,000 citizens are bitten by stray dogs in Karachi alone, where the estimated number of dogs living on the streets is around 200,000," Dr. Naseem said, adding that the project's main objective is to conduct Mass Dog Vaccination (MDV) of at least 70% of street dogs to create herd immunity against Rabies.
"Rabies is one of the most neglected tropical diseases, not only in Pakistan but over the world, because it involves stray animals which are unvaccinated, making it a difficult situation to keep a track of it," she added.
Dr. Naseem who has been a member of the WHO Expert Advisory Panel for Rabies since 2004 was speaking at an event organized by Getz Pharma to mark World Veterinary Day on Tuesday, June 9, 2021.
World Veterinary Day is observed annually with the objective to provide global leadership for the veterinary profession and to promote animal health and welfare and public health, through advocacy, education, and partnership.
Prof. Dr. Abdullah Arijo, Vice Chancellor of Sindh Agriculture University (SAU), was the chief guest at the event. Dr. Arejo acknowledged the importance of vets in supporting RFP, and pledged that SAU would train vets to carry out MDV and Animal Birth Control in Sindh. Other vets from Sindh Agriculture University reiterated their motivation as well.
The event was held to celebrate and acknowledge the services and achievements of veterinarians without whom the goal of vaccinating and neutering at least 70 percent of the dog population and eradicating Rabies would not have been possible.
"Over the years we have paid attention to the human aspect of it [Rabies] and begun our center of excellence for post-exposure prophylaxis (PEP) after a dog bites. We have one of the best centers in the country because we function exactly as the World Health Organization (WHO) recommends," added Dr. Salahuddin. "We are also a training center for PEP for health care workers in hospitals and clinics who wish to learn from us."
She continued, "On this World Veterinary Day we want to highlight that human doctors and civil society should take this up [Rabies] as well as government at every level. It is important to highlight the work of the veterinarians, which is why we are celebrating World Veterinary Day."
"Amongst human beings, 60 percent of infectious diseases are related to animals. Even diseases like TB, Malaria — also known as Zoonotic diseases come from the animal kingdom. This is why we should have a stronger connection with veterinarians and come together when it comes to common diseases," she explained.
In October 2019, the Indus Hospital Research Center (IHRC) partnered up with Getz Pharma and launched the Rabies Free Pakistan project to vaccinate street dogs against Rabies. The pilot project which started in 2018 from Ibrahim Hyderi, Karachi has now spread across the country working toward the eradication of Rabies from Pakistan by 2030 using the One Health Approach recommended by WHO.
In February 2020, Indus Hospital & Health Network's Rabies Free Pakistan program's first one-of-a-kind mobile animal sterilization unit was inaugurated. The unit which can carry about 24 surgeries daily is equipped with all the necessary facilities. It has two surgical tables, a washing area, supply of medicine.
Dr. Wajiha Javed, Head of Public Health and Research at Getz Pharma, and Project Director RFP added that dog culling is not the solution, rather we need to work together to vaccinate dogs and eliminate rabies from society.
The event also highlighted the work of Rabies Free Pakistan team which has achieved various milestones since the program's inception in 2018. In the last two and a half years, the team has been successful in scaling up project operations and has vaccinated more than 30,000 dogs and neutered around 7,000 dogs. Under the partnership, Getz Pharma has provided support for conducting epidemiologic research on dog bites and Rabies in Pakistan.