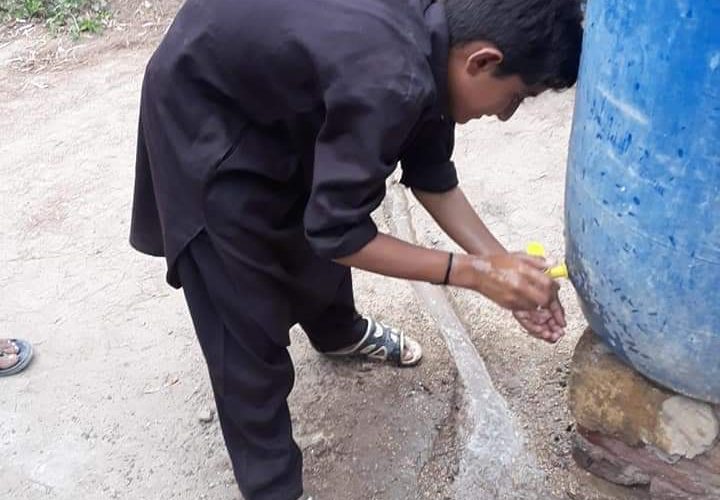 In far-flung areas of the country where availability of basic healthcare is a far dream, Shahroz is one of the hundreds of community health workers who are working tirelessly towards raising awareness about the COVID-19 pandemic."When Pakistan was hit by the COVID-19 outbreak,
I was thinking about the best way to protect ourselves from the virus," says Shahroz. "In my mind, the best possible way to protect ourselves from the infection was to practice the precautionary measures that we had been told."
Implementing changes on a large scale in Pakistan is not as easy as it sounds. In a country like Pakistan where everything requires back-channel talks and a lot of run-around, Shahroz started on the ground-level— his home village near Sehwan.
"I decided that maybe I should install a small tank at the gate of my house so anyone passing by could wash their hands. Then I thought, I should put it on the main road towards my village so that people coming in from other places could also use it."
"The next morning, I set about my task and installed a tank with two bars of soap alongside it," he shares.
Next, Shahroz called on other youngsters in the village and started educating them about the importance of handwashing and other precautionary measures against the coronavirus.
The result was overwhelming and soon children joined in and some of the village elders as well. "When I spoke about the symptoms of COVID-19 and what to look out for, I was supported by the village elders, whose backing gave weightage to my words, since I was echoing the same information which was being aired on the media."
But as things go, not everyone had their best interests of heart when it came to this. Whispers of Shahroz having connections with the UC chairman to supply soap followed him.
Unfazed he continued his work and soon other villages also started following his example. The villages of Arazi, Noor Nabi, Chutto and Rais Wali dad Rind were among the first ones to follow the example of Shahroz's village.
Shahroz is proud of the work he has done and is now planning to set up a tank inside his village too.
"I am delighted that I have managed to maintain the first tank since March. I am proud to be helping my fellow villagers and protecting not just my village but others too."
Community Health Workers are the backbone of the Community Engagement Center. While we often talk about the impact at the community level, it is imperative to consider impact at the health worker level.
Community Health Workers are often recruited from within local communities as agents of change within their areas. By taking small steps towards local action, we see a domino-effect whereby they can inspire change across neighboring villages and promote safe health behaviors, even in the time of a pandemic.
Bearing witness to the reliable information and action taken by a community health worker, communities begin to further trust the workers who are representatives of the Indus Health Network in these local contexts.