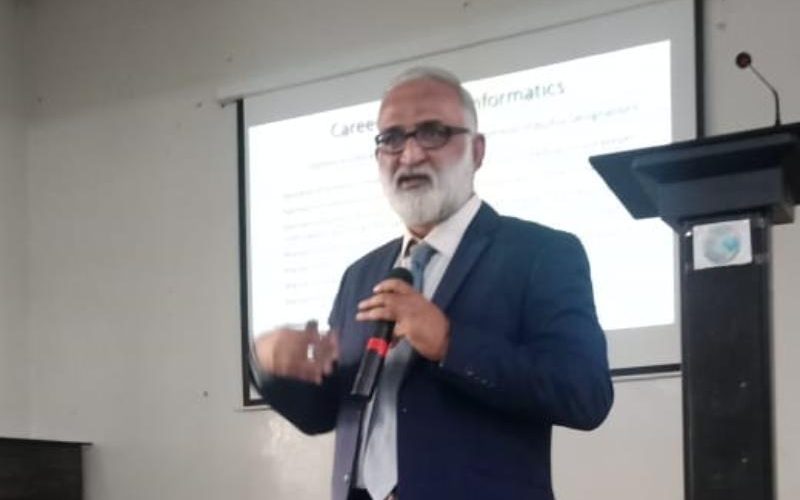 Swabi, October 22, 2020: Shakeel Akhter, Chief Information Officer, The Indus Hospital addressed the seminar "National Workshop on Health Informatics" on October 22, 2020. The seminar was organized by the faculty of Health Sciences at the Women University, Swabi in collaboration with the Indus Hospital, Karachi.
Addressing the seminar, Akhter spoke about the importance of information technology in healthcare. He also spoke about how the Health Information System (HIS) can be used by other medical and healthcare professionals in their work.
He presented a case Study of the HIS models used in various hospitals in Pakistan, such as The Indus Hospital, Shifa International Hospital, Shaukat Khanum Memorial Cancer Hospital and Research Center, and Pakistan Institute of Management.
During the presentation he talked about the history and vision of the Indus Hospital and provided an overview of the health Informatics, features, challenges, and implementation practices at Indus Health Network and other hospitals.
Akhter — one of the earliest IT graduates in Pakistan has been associated with the health IT industry since 1996. Pioneer of Pakistan's first paperless hospital, The Indus Hospital, he created a Hospital Management and Information System which is efficient, cost-effective, and environment-friendly.
Read more about his journey here.
https://indushospital.org.pk/our-stories/healthcare-technology-innovations-can-drive-better-outcomes-and-lower-costs-shakeel-akhter/