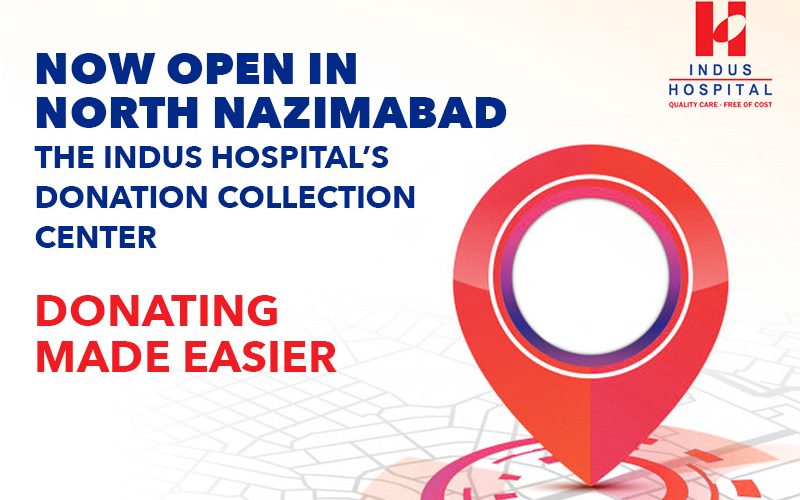 The Indus Hospital values the precious time of our esteemed donors and understands the need for convenience to deposit donations in a safe and secure environment. For this purpose, the Hospital has opened its collection centers in Karachi at the following locations: Bahadurabad, DHA, Ayesha Manzil, and University Road along with the one located within the main Korangi Campus. We are proud to announce the opening of our sixth donation collection center in North Nazimabad.
Located in Block N in North Nazimabad, the Collection Center will be accessible by the catchment areas of Nazimabad, North Nazimabad, North Karachi and Buffer Zone. The establishment of this Collection Center marks our presence in central Karachi, making it convenient for the people of these areas to access the Center. The Center will facilitate the donors by making it quick, easy and hassle-free to drop off their zakat or donations and get receipt.
For the last 13 years, The Indus Hospital has been serving the people of Karachi and beyond with respect and dignity, providing quality healthcare services without charging a single rupee to the patient or his/her family. This has all been made possible through the generosity of our donors, supporters and well-wishers.
Bearing witness to the growing demand of our free and quality healthcare services, The Indus Hospital is now expanding the current 300 bed Korangi Campus to a 1,300+ bed facility equipped with all clinical and allied health services under one roof. Once completed, The Indus Hospital, Korangi Campus will be one of the largest hospitals in the private healthcare sector providing quality treatment, absolutely free of cost. Our donors may also donate for the Karachi expansion project and help us make this dream a reality.
Collection Centers Timings: 09:30 am till 06:00 pm
For details regarding our other Collection Centers, visit: https://indushospital.org.pk/collection-centers/
For other ways to donate, visit: https://indushospital.org.pk/