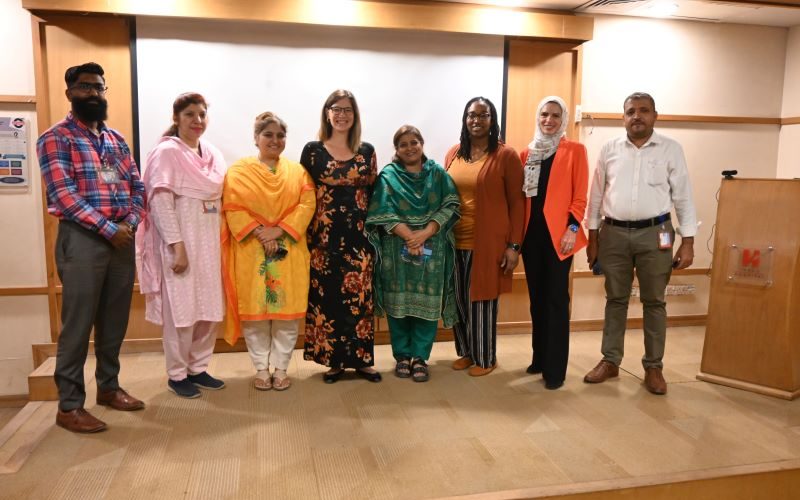 A team of senior representatives from St. Jude Children's Research Hospital (SJCRH) visited the Indus Hospital, Korangi Campus, Karachi, from March 6-8, 2023. During their visit, the team conducted a Qualitative Research workshop for IHHN's healthcare professionals, toured the hospital and its pediatric oncology services, and worked on the research project conducted in collaboration with IHHN and Children Cancer Hospital, Lahore.
Dylan Graetz, (MD, PHD) Assistant professor, Departments of Oncology and Global Pediatric Medicine, SJCRH | St. Jude Global, facilitated the Qualitative Research Workshop along with Culture and Communication Team Members from Department of Global Pediatric Medicine. The Workshop delivered an introduction to qualitative research and learned about the ongoing research work in the region, including communication-focused work in Pakistan at Indus Hospital and Children's Hospital Lahore.
As one of the leading tertiary childhood cancer facilities in Pakistan, Indus Hospital and Health Network is dedicated to ensuring free-of-cost, holistic, quality care to all children in need. Indus Hospital's Pediatric Oncology services, a dedicated 85-bed facility started in 2014, comprises out-patient clinics, general wards, an oncology day care unit, a dedicated emergency unit, a covered outdoor play area, psycho-social and counseling services, and a hospital-based school 'Indus Kay Sitaray'.
IHHN has also started satellite pediatric oncology clinics at District Headquarter Hospital, Badin in Sindh, and Sheikh Khalifah Bin Zayd Hospital in Balochistan to facilitate patients for early diagnosis and patients on maintenance. With a dedicated team of healthcare professionals and volunteers – including students, artists, and many other supporters from various walks of life – to-date more than 12,000 children have been treated for cancer and blood diseases across the Network.
To improve the childhood cancer survival rate in Pakistan, IHHN collaborated with the world's premier pediatric cancer research center – St. Jude Children's Research Hospital (SJCRH) – as one of their collaborating partners in SJCRH's initiatives of Global Paediatric Medicine to increase access to quality pediatric oncology services across Pakistan and drive progress against childhood cancer, blood disorders, and other life-threatening diseases. IHHN also strives to play an important role to influence and develop national policies to ensure the availability of better facilities to serve children affected with cancer.
Indus Hospital and Health Network is grateful to Dylan Graetz and the entire team from St. Jude Children's Research Hospital for helping to advance holistic quality care for children with cancer in Pakistan.