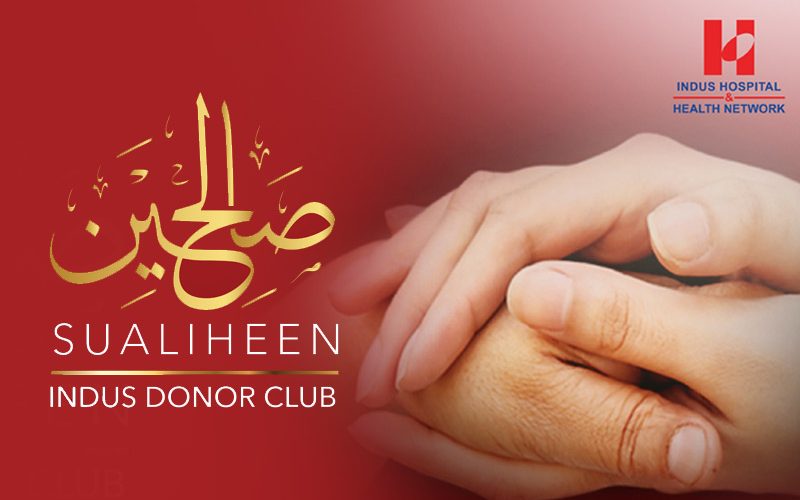 One of the most powerful sources of inspiration in this world are the examples of empathy, compassion and generosity. These were once again evident and demonstrated during the COVID-19 pandemic when countless instances of human spirit were experienced. The COVID-19 pandemic not only reminded us but also, reinforced the belief that the values of kindness and generosity – if felt and made universal – together can certainly shape a much better world. The very foundation of the Indus Hospital (now officially known as Indus Hospital & Health Network; IHHN) is built on these values of love, care and generosity. Our religion Islam has revealed the quintessential description of such virtuous helpers – the Sualiheen (صالحین).
Our Sualiheen (صالحین) have stood by us since our inception in 2007 by selflessly offering the gift of their time and resources. In the midst of continued challenge to the whole of humanity, there could not have been a better time to recognize the efforts of our Sualiheen (صالحین). IHHN feels honoured to formally announce the launch of its prestigious "Sualiheen (صالحین) – Indus Donor Club." Through this, we would like to acknowledge our most dedicated donors who have been integral to our journey over the past 13 years.
Membership of the prestigious "Sualiheen (صالحین) – Indus Donor Club" is an outward display of our biggest donors' dedication to the thousands of patients they help each year. It is our hope that our Sualiheen (صالحین) will continue to inspire others to be as actively involved in the life of IHHN and its patients.
IHHN pays tribute to its Sualiheen (صالحین) for demonstrating their endless support, generosity and philanthropy in our journey toward becoming Pakistan's first health network serving the nation absolutely free-of-cost.
It is through your generosity that you provide the greatest gift one can offer another…the chance of an equitable, healthy and prosperous future.