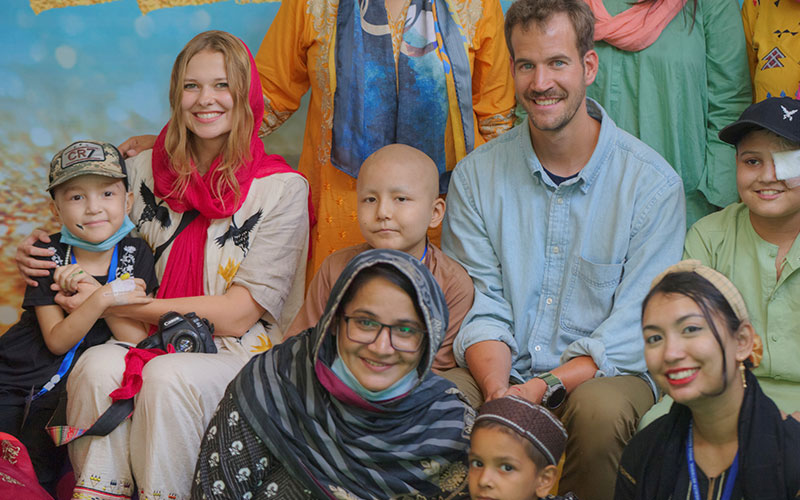 Szymon Makuch, the Polish ultra-distance runner, after completing the 1000 kilometers approx. KarakoRUN2022 through the Hindukush, the Karakorum, and the Himalayas for pediatric cancer, traveled to Karachi to meet Indus Hospital & Health Network's childhood cancer patients.
At IHHN, Korangi Campus, Szymon toured the hospital's pediatric wards and met all our brave little warriors. He listened to their inspiring stories and spent time with them playing games and painting. He was excited to meet the little oncological patients. He said, "After meeting these kids, I realize that their journey is bigger than the run itself. This has been a very humbling experience."
Szymon was officially taken on board as our IHHN Ambassador. Dr. Abdul Bari Khan, CEO, IHHN and Mr. Mashhood Rizvi, Executive Director, Communication & resource Development Directorate, IHHN presented him the IHHN Ambassador shield.
Our partner Quetta Gladiator also visited the hospital to present a souvenir to Szymon and as sports fans appreciated his commitment to take on this never-been-done-before demanding run through Northern Pakistan. They also acknowledged his dedicated efforts for the childhood cancer patients.
Szymon also visited one of IHHN's flood relief medical units in Sehwan, Sindh, to meet the flood-affected community and learn about IHHN's emergency response.
Szymon Makuch specializes in extreme runs for charity. He has run several ultra-distance treks through his Run for Emotion initiative in order to help raise funds for various patients. KarakoRUN2022 marks Szymon's fourth and most extreme marathon so far. The run, which spanned almost 20 days in North Western Pakistan's most difficult terrains, provides a modest emulation of the burdensome journey childhood cancer patients experience.