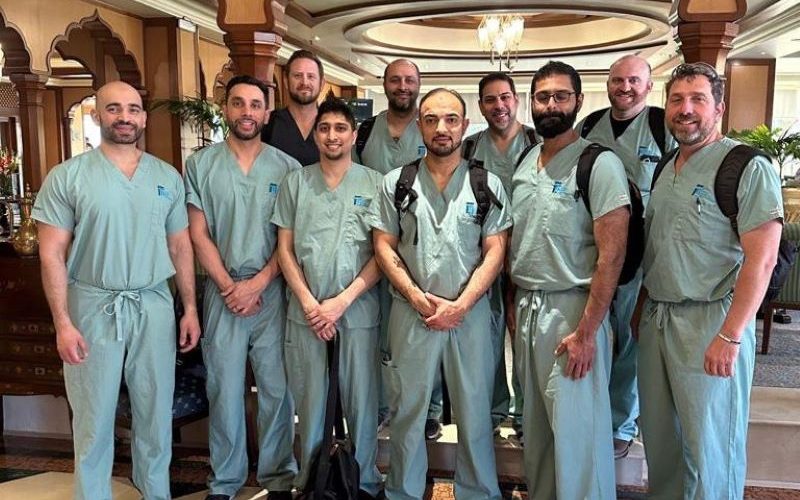 Indus Hospital and Health Network (IHHN) is immensely grateful to Project GODA (Gift of Disability Alleviation) for transforming the lives of over 120 patients in need. The team traveled from the USA to Pakistan and, over the course of six days, performed nearly nonstop surgeries in IHHN's owned and managed hospitals in Karachi, Lahore, Multan, and Muzaffargarh. This was Project GODA's third year and fifth visit to IHHN.
The Project GODA team comprises incredible and dedicated doctors and professionals from the medical community specializing in orthopedics. This includes Dr. Umar Burney, Dr. Saad Khan, Dr. Atif Ahmed, Dr. Ahmed Siddiqi, Dr. Adeel Khalil, Dr. Andrew Pritchett, Dr. Andrew Morris, Dr. Junaid Makda, Dr. Khalid Yousaf, and Dr. Joel Thompson.
Led by Dr. Burney, the team flew in from the USA to perform knee and hip replacement surgeries pro bono. During this visit, they introduced another specialty: orthopedic spinal surgery. In addition to this, Project GODA brought with it high-cost medical equipment to Pakistan as a donation. It includes hip implants, knee implants, bone bandages, and power equipment like surgical instruments, saws, drills, and blades.
The team's tireless efforts have helped significantly reduce the Network's waitlist of patients awaiting necessary orthopedic surgery. During their visit, they performed over 66 Knee Replacement Surgeries, 43 Hip Replacement Surgeries, 20 Spine Surgeries, and 2 Other Surgeries.
Among those who underwent the life-changing surgery was Sajjad Ahmed, a patient at Recep Tayyip Erdogan Hospital (RTEH), Muzaffargarh. Prior to visiting RTEH, Sajjad feared he would never recover from his spinal disease citing the high cost of treatment. While recovering at the hospital post-surgery, Sajjad said, "I would like to thank the team of surgeons and Indus Hospital for caring for me so well. They have given me a future to look forward to."
Read More about Project GODA's work at RTEH, Muzaffargarh.
Indus Hospital and Health Network is immensely grateful to Project GODA and the entire team for their hard work and dedication to bettering the lives of underprivileged patients at IHHN.  IHHN looks forward to similar future collaborations to give countless more patients the chance for a brighter future.