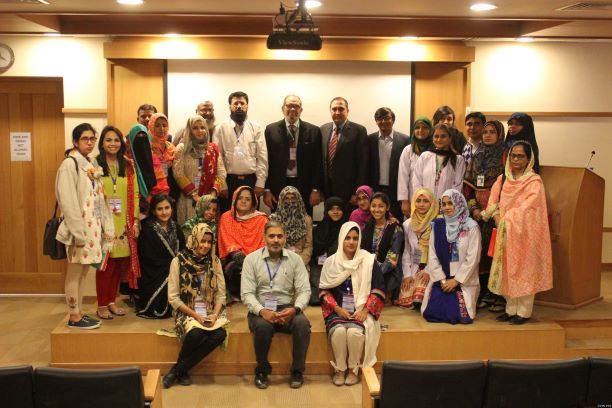 The Indus Hospital's ENT, Speech therapy, and Audiology teams organized multiple activities in order to commemorate World Hearing Day 2020. The activities continued for a week. These efforts were also recognized by the World Hearing Forum.  
Dr. Anjum Naveed, Head of Otorhinolaryngology Department's article published to highlight the importance of newborn Hearing screening, Inclusion of individuals with hearing impairment in society, available rehabilitative services as well as prevention techniques related to hearing loss. The team members were invited on TV and Radio channels to talk about hearing issues in children. The teams also organized a fun day for children with hearing loss, enrolled in Cochlear Implant Program, and speech therapy services at the Indus Hospital. These activities created a sense of awareness and also a hope to cope with hearing loss in the community.  
Dr. Anjum Naveed; Ms. Anam Madhani, Speech Language Therapist, Ms. Tabassum Naz, Audiologist, Ms. Rabika Amanullah Zuberi, Speech Language Therapist, Ms. Haya Yawar, Audiologist, and Ms. Bisma Gulzar, Psychologist organized these activities. 
The Indus hospital is providing both diagnostic and therapeutic services related to audiology and speech therapy free for all patients. The teams include some highly experience surgeons, doctors, and therapists.  
The department of Audiology and Speech therapy started functioning in 2014 under ENT services. It provides speech, language and audiological rehabilitative services to individuals with communication, hearing, and swallowing disorders. Until now 71 individuals have been implanted with Unilateral Cochlear Implant.