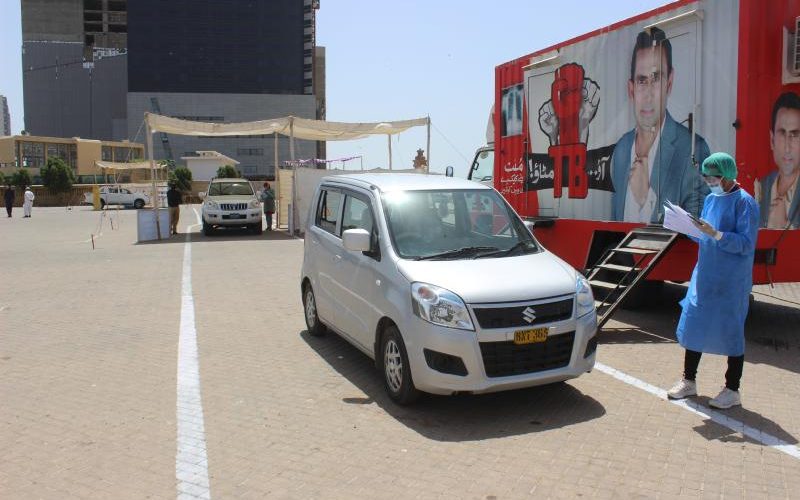 Karachi
The Indus Health Network's Global Health Directorate (IHN-GHD) and IRD Pakistan have partnered together to implement innovative TB initiatives across Pakistan in partnership with the public and private sectors.The program runs 51 TB mobile vans across the country that are mobilized in the community as well as private and public hospitals to screen for Tuberculosis. The van screening processes have been amended to integrate in the algorithm providing x-ray screening for Pneumonia and testing services for COVID 19. The vans are equipped with X-Ray machines that are installed with AI based Infinity software that allows for getting a radiological report to inform the probability of pneumonia and tuberculosis. In addition, the software facilitates data entry and hot spot cluster mapping
Emergency Departments Tertiary Care Hospitals: In the areas of Sindh specifically Karachi, the vans are being used in the Emergency Room (ER) at Indus Hospital and Civil Hospital to help lessen the overwhelming burden in the ERs caused by individuals looking to be screened for Pneumonia. A team of healthcare professionals screen and triage patients in the vans. The team follows a set protocol to X-ray for Tuberculosis and Pneumonia and test patients for TB and COVID 19. If the individual is considered high risk for COVID 19 or Tuberculosis, they are referred to have a nasopharyngeal swab test or sputum test respectively.
Drive through Screening and Testing: This initiative is a public-private partnership between the Government of Sindh, district administration of the district south of Karachi, IHN – GHD and IRD Pakistan teams to X-ray screen for tuberculosis and pneumonia and swab for COVID-19 testing. The district office handles the COVID-19 pre-screening of people who call a hotline to book an appointment for the drive-through facility. The goal of this testing method is to screen and test a high volume of people while minimizing physical contact by limiting individuals to their own personal vehicles. The verbal screening, X-Ray screening for pneumonia and testing for COVID- 19 are all being conducted by a trained staff from IHN-GHD and IRD Pakistan.
Active Screening COVID-19 Hot Spot Clusters:  In collaboration with the local government, IHN-GHD and IRD Pakistan are providing screening, triage, and swab collection in areas of Karachi which are considered high COVID-19 burden. The vans are then sent to these hotspot clusters where they set up Tuberculosis and COVID 19 screening camps where risk assessment is done based on verbal symptoms screening, and nasopharyngeal swabs are taken for testing. For those individual whose results come back as positive, they are informed, and immediate steps are taken to guarantee isolation and quarantine and to close the transmission loop by contact tracing.