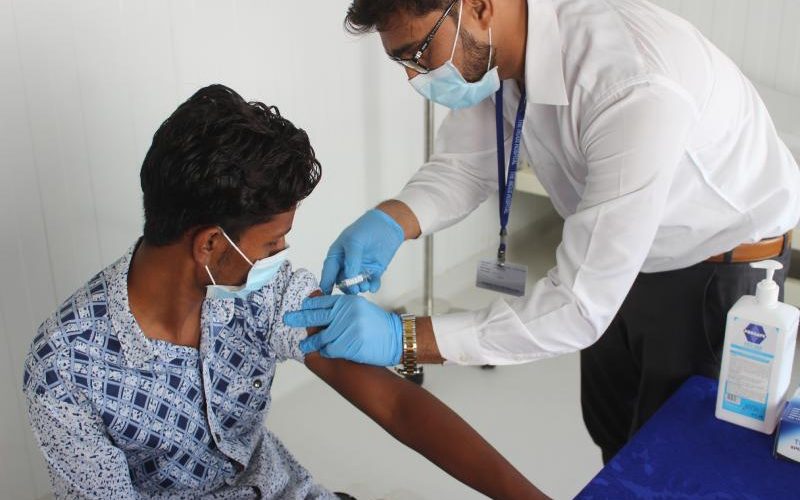 Karachi: On October 13th, The Indus Hospital began its site recruitment of healthy participants for the CanSinoBIO preventive vaccine trial against COVID-19.  Globally, this trial is one of eleven COVID-19 vaccine trials that has successfully been completed on a few hundred people (Phase I and II).  As part of the vaccine development process, the vaccine now needs to be tried on thousands of people before it can be made available for everyone.  Nearly 40,000 volunteers will participate from Argentina, Chile, Mexico, Saudi Arabia, Russia, and Pakistan in this randomized placebo-controlled trial; with 2000 from the Indus Hospital site.
There are many different types of COVID-19 vaccines under development.  The CanSinoBIO is a single-dose vaccine that uses a weakened human common cold virus (adenovirus Ad5) incapable of replicating itself to carry coronavirus proteins into cells in the body. This causes the body to mount an immune defense against the virus.
Early-stage findings published in The Lancet showed the vaccine to be safe and most participants (94%-100%) had a four-fold increase in binding antibodies and nearly half of the participants showed neutralizing antibodies against SARS-CoV-2.
To be eligible for participation in the CanSinoBIO vaccine trial, the participant has to be above 18 years of age, never had lab-proven COVID-19, not be pregnant, nor lactating; or plan to become pregnant within 90 days after receiving the vaccine.  Only healthy or stable-healthy adults with controlled pre-existing medical conditions are eligible to participate.
If eligible, the participant will be randomized to receive one intramuscular dose of either vaccine or placebo. The participant should be willing to receive weekly phone calls/message to help the research team assess your wellbeing during the one-year follow-up. Participants should also be willing to give about 5 teaspoons of blood on enrollment day and again after one year. If the participant exhibits any signs of the virus, they should be willing to be swabbed at any time while enrolled.
A potential benefit of participating in this trial is early access to an investigational COVID-19 vaccine before it is available to others and help to contribute to medical knowledge. But just like any other vaccine, there may be some temporary, minor side-effects such as pain at the injection site, fatigue, muscle ache, fever which can be resolved with over-the-counter painkillers.
If interested to participate, please come to The Indus Hospital, Korangi with you CNIC.  Recruitment is open every day from 9am to 8pm daily including Sunday.  For further questions, email research@tih.org.pk or Call/Whatsapp 0309 0602070.  Participants should plan to spend approximately 1.5 hours.
This study has been approved by our Institutional Review Board, National BioEthics Committe and the Drug Regulatory Authority of Pakistan.