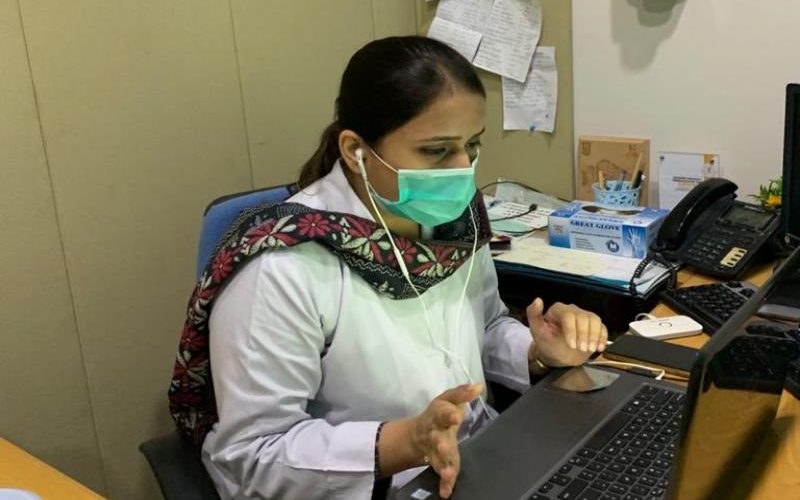 Karachi, Pakistan: The COVID-19 pandemic has nearly affected every sector, bringing a halt to how we live our lives. Among these, the health and rehabilitation sector have been amongst the most affected.
Patients enrolled for speech and language therapy at The Indus Hospital are largely made up of children for whom time and consistency are crucial factors when it comes to prognosis. To wait for the pandemic and lockdown situations to improve before resuming therapy may have impacted the progress of these patients, perhaps even resulting in regression in some cases.
To ensure consistent and uninterrupted services amidst these uncertain times, the ENT Department and Cochlear Implant Program team decided to resort to telepractice as an alternative to face-to-face therapy. Telepractice is a broad term used to refer to the delivery of speech and language therapy, psychological, and audiological professional services via the use of technology.
Keeping the safety and uninterrupted rehabilitation of the young patients in mind, the team comprising Anam Madhani (Speech Language Therapist), Rabika Zuberi (Speech Language Therapist), Farhat Zehra (Speech Language Therapist), Bisma Gulzar (Psychologist) and Haya Awan (Audiologist) spurred into action and initiated teletherapy services on March 27, 2020.
The team has been catering to nearly 60 patients presented with a variety of conditions including Hearing Impairment (children fitted with hearing aids and/or cochlear implants), Language Disorder, Fluency Disorder, and Speech Sound Disorders. The patients were provided with consultations, speech and language therapy, behavioral therapy, and counseling via various modes feasible to each patient. The parents of children receiving tele-rehabilitation services at the Indus Hospital met this approach to therapy with relief and satisfaction. They have lent their complete support and cooperation in making this initiative a success.
Times have been unpredictable and worrisome for all parents especially for those who have children with special needs. The team has extended their support to these parents by continuing to provide high quality, free treatment for patients within the safe confines of their homes.