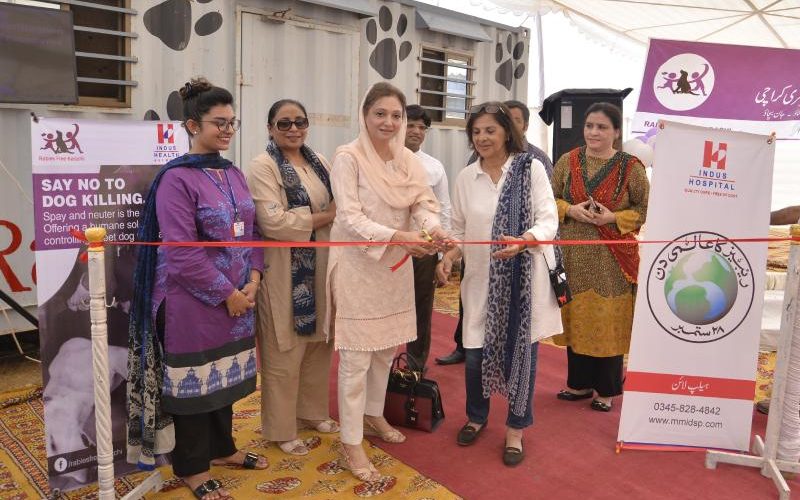 Karachi, Pakistan,
September 28, 2019
World Rabies Day is a global campaign to help prevent the spread of the world's most fatal disease. The day received a boost today in Karachi, when supporters pledged to take action in their neighborhoods. World Rabies Day is being facilitated by the international charity, Global Alliance for Rabies Control, and the global series of events will culminate on September 28, 2019 – World Rabies Day.
This year's World Rabies Day's theme is Rabies: Vaccinate to Eliminate. The aim is to highlight the essential role of mass canine vaccination in rabies elimination. It also indicates the need for human vaccination to save lives in case of potential exposure to rabies.
Rabies Free Karachi (RFK) program is committed to eliminate rabies by using WHO, The World Organisation for Animal Health (OIE) and Food and Agriculture Organization (FAO) approved methodology. It is an endeavor of the Indus Hospital's Research Center. It is a program that seeks to humanely control the street dog population through surgical sterilization and mass dog vaccination.  RFK's scale-up work has begun (covering regions in Ibrahim Hyderi, Korangi, Lyari and Landhi) and it is optimistic to technically support its replication throughout Pakistan. The essence of this program is that it brings forward a team where veterinaries, animal rightists, and a team of researchers collaborate effectively to impose the 'One Health Approach'.
Pakistan, as a whole, and Karachi, in particular, reports a large number of dog bites from street dogs. By our efforts, reduction in street dog population would occur naturally and become evident in the following years.
During the event, the RFK team spread awareness about rabies, its prevention, and treatment. It was followed by an address of RFK core and field team members who spoke about their experiences; a dog-catching simulation was administered and the surgical container was opened for inspection, where dogs are surgically sterilized.
In the light of recent events of dog-culling by many governmental organizations, RFK will pitch a humane and effective alternative, and promote kindness towards animals.
RFK is now planning to extend the program to the rest of Karachi. The program is seeking support from the civil society and animal rightist organizations. This work is a step in the right direction to enable Pakistan ultimately achieve rabies elimination by the global target year of 2030.
About rabies
Around 59,000 people die from rabies annually, with over 99% of these deaths occurring in Africa and Asia, as a result of being bitten by an infected dog. Up to 60% of all dog bites and rabies deaths occur in children under 15 years of age.
Dogs are major victims of the disease too; millions are killed every year as a result of mass culling through misguided attempts to curb the disease.
Rabies is 99.9% fatal, but it is also 100% preventable. Eliminating the disease by vaccinating dogs protects them and stops transmission to people. But despite the existence of effective, relatively low-cost solutions to control animal rabies, people and animals are still dying.
About World Rabies Day
World Rabies Day, held on September 28 every year, was initiated by Global Alliance for Rabies Control in 2007 to create a global opportunity for people to unite in increasing awareness of rabies prevention. Since then, it has grown year on year, with thousands of people organizing and participating in local, regional and national events, on or around September 28. Learn more at http://rabiesalliance.org/world-rabies-day/
About Global Alliance for Rabies Control
The Global Alliance for Rabies Control (GARC) is a leading non-profit organization that aims to eliminate deaths from canine rabies by 2030, by working with governments, veterinary, public health and educational experts and communities to facilitate policy change and build capacity to eliminate rabies in areas hardest hit by the disease. For more information about rabies and GARC's work, visit http://rabiesalliance.org.