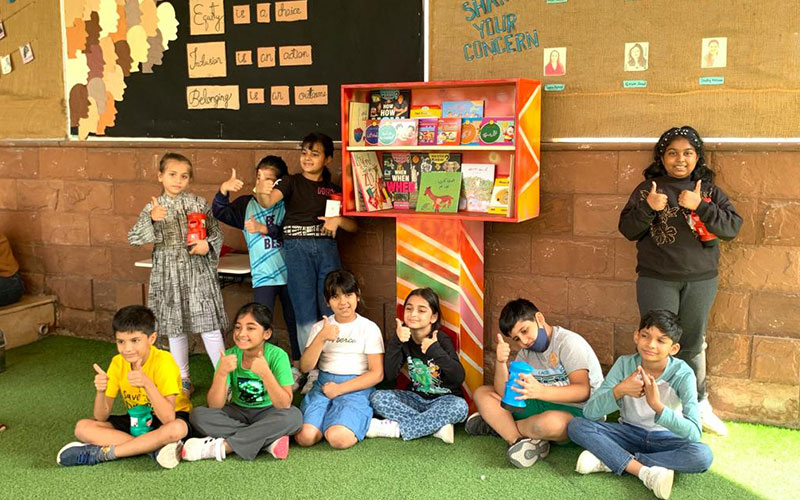 In celebration of World Children's Day 2022, students of The Ivy School made inspiring contributions for the Pediatric patients at Indus Hospital and Health Network (IHHN), Korangi Campus.
As part of Learning Challenges Around the World Module, Grade 3 students were made aware of the challenges and were encouraged to brainstorm a proposal to help the affectees (particularly children being treated at Indus Hospital). Based on their learning, the students envisioned to help the pediatric patients by providing them with a mini-library of books that children could enjoy during their stay at the Hospital.
The students fundraised to design, construct and populate the library with a diverse collection of around 70 books in English & Urdu language.
In addition to this the school also ran the Indus Tarbiyat campaign across all classes (from Kindergarten to Grade 5). Through this campaign, the students were encouraged to perform fundraising activities at home to fundraise for the pediatric patients at Indus Hospital.
"I hosted a Juice Bar at my home and invited my all my family and cousins to visit the stall to buy lemonade from it", said Sara excitedly. "I started a dinosaur business with my older brother and we have sold a lot of dinosaurs to our friends and cousins. We told them that we are donating this collection to help the children at Indus Hospital", said Zayn student of Grade of 2.
IHHN is proud to have Ivy School as the Indus Tarbiyat partner to inculcate the habit of saving and sharing blessings with the less fortunate members of our community, amongst their students. The school plans to continue the Box of Kindness drive on regular basis to support IHHN to continue to serve the children suffering from various diseases and health issues with quality medical care absolutely free.