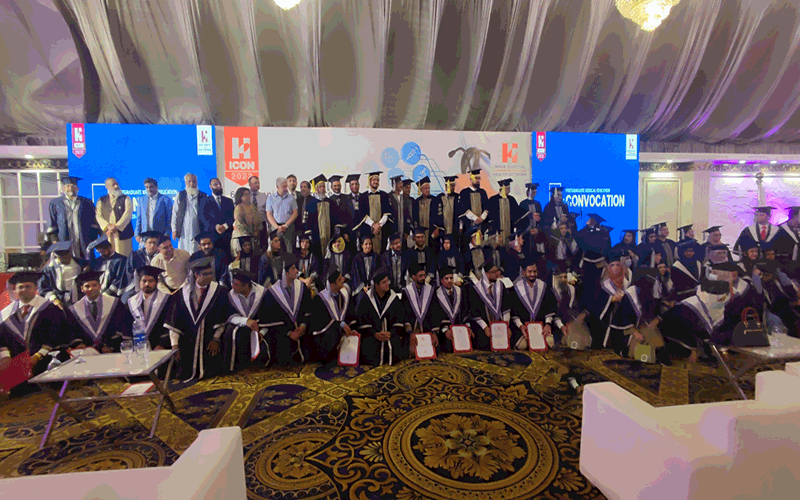 98 PGME Graduated with 3 Professors Honored with Certificates and Professor of Emeritus
Indus Hospital & Health Network (IHHN) held its third Postgraduate Medical Education (PGME) convocation on March 27, 2022. Ninety-eight medical professionals received shields and certificates during the Convocation, out of which 19 received Intermediate Module; 26 received MCPS; 9 received Fellowship; and 44 received FCPS. Currently, IHHN's PGME program offers postgraduate degrees in 22 specialties.
This Convocation also saw the conferring of Professor of Emeritus status to three distinguished senior faculty members. Those receiving this honor have dedicated their lives to teaching and training. The distinguished Professor of Emeritus was conferred to Professor Riaz Qureshi, Family Medicine; Professor Mushtaq Ahmed, General Surgery; and Professor Mumtaz Maher, General Surgery.
IHHN has been providing postgraduate education since 2009, and so far, more than 200 professionals have completed their postgraduate education. It is a unique academic-based training program that offers postgraduate training following WHO and College of Physicians and Surgeons (CPSP) criteria. The PGME program provides robust training and teaching, which the PGME Committee monitors. Currently, 18 FCPS/ MCPS programs and 3 Fellowships programs run at the Indus Hospital & Health Network's Korangi Campus. At the same time, Pediatric ICU has a Fellowship program that has been inspected and is awaiting recognition by CPSP. In the Recep Tayyip Erdogan Hospital, Muzaffargarh, 4 FCPS training programs are recognized, and each has completed 1-year training. The residents are being hired for the second year.
The Convocation started with the procession led by Dr. Syed Zafar Zaidi, Dean Indus University of Health Sciences (IUHS). While speaking at the Convocation, Dr. Syed Zafar Zaidi greeted the audience and warmly congratulated the graduates. He talked at length about how IUHS is helping in contributing to the addition of the most talented healthcare professionals in the national pool. Furthermore, these unique postgraduate programs are formulated to reshape a graduate medical professional into a compassionate and empathetic healthcare provider.
During their valedictorian speeches, Dr. Shameem Behram, Consultant Infectious Diseases, and Dr. Nadeem Ahmed Sheikh, Junior Consultant Urology, shared their residency and fellowship experience with the audience.
At the end of the ceremony, Dr. Ghina Shamsi, Consultant General Surgery and Head of PGME program, gave her concluding remarks. She spoke about the program and said that the PGME program strives to instill critical thinking and analysis into its graduates to promote evidence-based healthcare and research abiding by ethics and professionalism. Each program is carefully structured to produce skilled professionals and develop a patient-centric healthcare system.