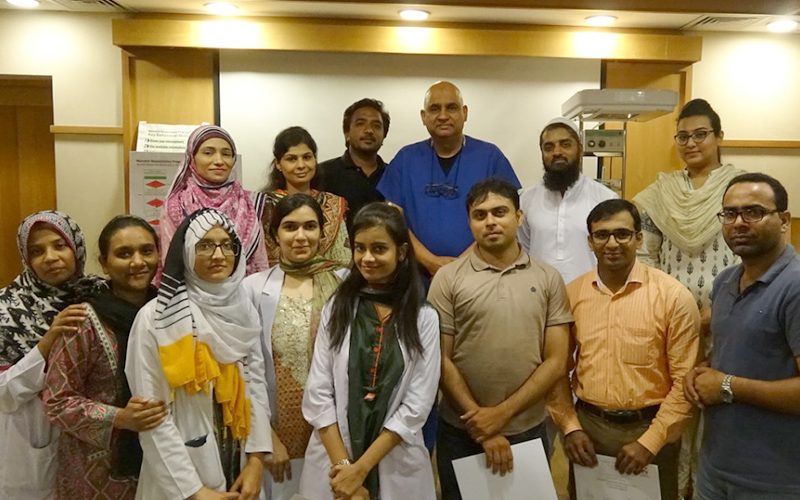 Perinatal asphyxia is one of the major causes of neonatal and early childhood mortality. Pakistan has no neonatal life support system at national level, so most of neonatal healthcare staff is unable to provide appropriate and timely resuscitation. While evaluating the necessity and shortage of trained staff, the Emergency Response Committee of the Indus Hospital conducted a three-day workshop on Neonatal Resuscitation.
The workshop was conducted at the Indus Hospital, Korangi Campus from September 13-15, 2019. It was conducted in collaboration with the Association of Physicians of Pakistani Descent of North America, Pediatrics (AAPNA Peds).
Dr. Misbah Qureshi conducted the workshop. He is the Assistant Professor of Pediatrics, the George Washington University School of Medicine, Children National Medical Center, Washington DC, Mary Washington Hospital. He is also a member of AAPNA PEDS​.
During the workshop, six instructors were trained for instructor course while 48 candidates from TIH and other hospitals of Karachi were trained for the Neonatal Resuscitation Program Provider Course. These instructors will be running Pakistan Neonatal Resuscitation Program from the platform of The Indus Hospital.​
The aim of this workshop was to train new-born healthcare professional for neonatal resuscitation in order to reduce the neonatal mortality. The workshop would help healthcare professional to learn the cognitive, technical, and teamwork skills which are needed to resuscitate and stabilize new-borns. It would help in learning how to evaluate a new-born, making decisions about what action to take, and taking the steps involved in resuscitation.​
The workshop was designed for healthcare professionals involved in any aspect of neonatal resuscitation, including physicians, nurses, midwi​​ves, respiratory therapist, and other healthcare professionals who provide direct care during neonatal resuscitation.​​