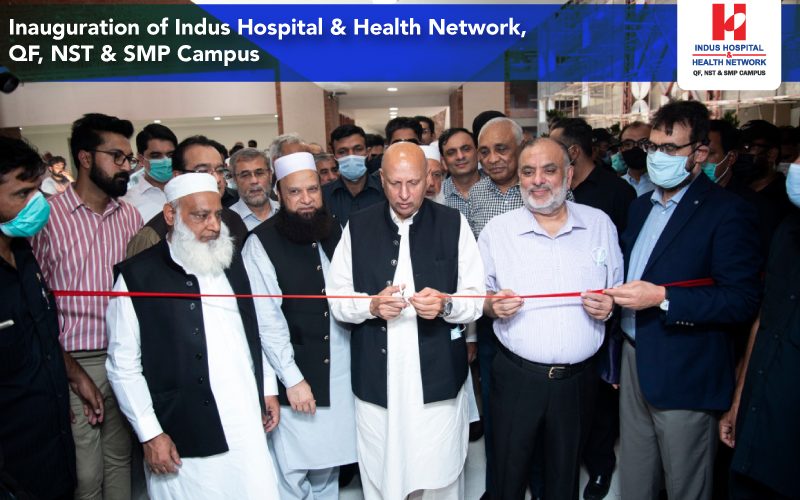 Lahore, Pakistan
June 30, 2021
The Indus Hospital & Health Network (IHHN) opened the doors of its newly-built, state-of-the-art hospital in Jubilee Town, Lahore on June 30, 2021. In 2017, Qarshi Foundation and Naimat Saleem Trust in collaboration with the IHHN, laid foundations of the QF, NST & SMP Campus. In 2021, Mr. S.M. Pervez of the Din Group also joined the cohort and became an active partner. There are several other business groups and individual donors who are generously funding for the noble cause.
The Qarshi Foundation and Naimat Saleem Trust has been a significant part of IHHN's cause since 2014 when they sought help of IHHN in strengthening the public healthcare system of Punjab by creating Recep Tayyip Erdogan Hospital Trust (RTEHT). IHHN in collaboration with RTEHT has been managing seven hospitals since 2014.
This project of IHHN in Jubilee Town Lahore is also being supported by Lahore Institute of Health Sciences (LIHS) Ltd. as its flagship project. LIHS Ltd. is an independent entity formed with a vision to establish a number of welfare and endowment projects, primarily in healthcare and education sectors, with the sole purpose of seeking Pleasure of Allah (SWT) alongside following the teachings of Prophet Muhammad (SAW) by serving the humanity indiscriminately. The founders of LIHS Ltd. include Mr. Iqbal Ahmed Qarshi and Dr. Misbah Iqbal of Qarshi Foundation and Mr. Javed Arshad Bhatti and Mr. Mian Mohammad Ahsan of Naimat Saleem Trust. LIHS Ltd. is primarily contributing major donations to support IHHN's Jubilee Town campus and aims to establish a number of future endowment projects for IHHN's Jubilee Town Lahore campus that includes Qarshi University College of Health Sciences, Qarshi Institute of Natural Medicine, LIHS School of Dentistry, LIHS School of Pharmacy, LIHS School of Nursing, LIHS School of Allied Health Sciences and LIHS Central Pathology Lab, Residential complex for staff, doctors and nurses, Community and Health Club, a multipurpose auditorium, an event hall, Message College, Qarshi Islamic and Research Centre, and a Sarai for patients and their attendants.
Honorable Governor Punjab Ch. Muhammad Sarwar, the Chief Guest of the ceremony, inaugurated the Indus Hospital – QF, NST & SMP Campus. Dr. Abdul Bari Khan and other senior members of the IHHN were present at the ceremony. While inaugurating the facility the Chief Guest appreciated the persistent efforts of Qarshi Foundation, Naimat Saleem Trust and other founding and general donors of the Hospital Campus, alongside praising the role of IHHN in healthcare landscape of Pakistan. He praised the professionalism and excellence of care being exhibited by IHHN under leadership of Dr. Abdul Bari Khan as CEO IHHN.
Dr. Bari thanked the audience and said that this journey of IHHN in Lahore could not have been possible without the continued support of the donor community of Lahore. He thanked the generous contributions made by all founding donors, several business groups and individual donors and hoped for continuity of the support by the community for the philanthropic mission of IHHN. IHHN, today is the country's largest healthcare network that treats 5 million patients annually, all free-of-cost with the support of its valued donors and partners.
Dr. Abdul Bari khan's dream to treat the ailing humanity became a reality in Karachi in 2007. Even after realizing this seemingly unachievable dream, Dr. Bari and his friends did not stop. The need for quality and free healthcare seemed insatiable. They started replicating the golden example in different parts of the country. The Network has a simple and all-encompassing vision, "Free and quality treatment for all to please Allah SWT". In line with its vision, the Network has been expanding its services all over Pakistan by undertaking some public-private and private-private partnerships.
The Indus Hospital – QF, NST & SMP Campus is being completed in three phases. June 30th 2021 marks the soft launch of the hospital's first phase with OPD and 34 beds being made functional, whereas later in October 2021, bed numbers will be increased to 100 as part of commissioning the first phase completely. In December 2022, further 200 beds will be functional while in December 2023 the hospital will be fully functional with 600 beds. It is estimated that once completely functional, the hospital would be able to serve 1 million patients, annually.
The hospital houses all important faculties and specialties including but not limited to: surgical, pediatric, gynecology, obstetrics, oncology, orthopedic, nephrology, radiology, laboratory, blood center, and eastern medicine.