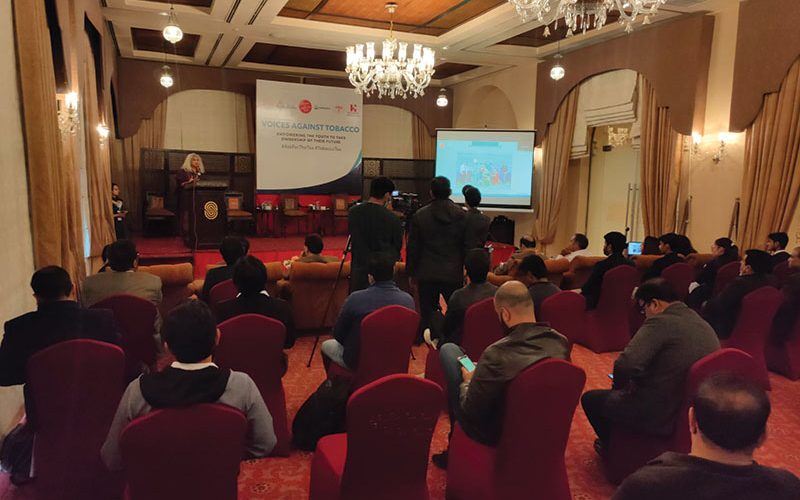 Voices Against Tobacco (VAT), an initiative of Indus Hospital & Health Network (IHHN), today announced the results of a community research survey that showcases the dire need for change in tobacco control policies in Pakistan. The results were presented by VAT Student Ambassadors, who are rallying for the health and well-being of their communities, emphasizing that better policies are needed in order to reduce tobacco consumption.
"VAT aims to create a dialogue about the need for meaningful change to improve tobacco control measures in Pakistan and empower the youth to take ownership of their health and future," said Dr. Saima Saeed, Director of IHHN's Lung Health Program.
Through trainings in tobacco control and community mobilization, students of the Islamabad/Rawalpindi campuses of the Punjab Group of Colleges carried out surveys within their communities, families and peers.
Over 1,200 households were surveyed to understand their attitudes and habits around tobacco. Out of these, over half (55%) included a tobacco user, and the average expenditure on tobacco was almost PKR. 70,000 per year. And yet, of those who consumed tobacco, only 48% perceived tobacco as extremely hazardous.
"There is clear, persistent use of tobacco in Pakistan, supplemented by a lack of understanding of the extent of the dangers of tobacco. While the entire population is affected by this, the youth are especially vulnerable and susceptible," said Malik Imran, Country Head of Campaign for Tobacco Free Kids.
Students found that 70% of households believe that tobacco advertisement influence children into consumption. While stress relief was the most commonly chosen reason as to why people start smoking, households also agreed that curiosity, peer pressure and influence by elders play a significant role.
In addition to outside influences, accessibility of tobacco also creates a gateway to usage. 70% of households agreed that cigarettes are affordable for the youth, and 76% agree that sufficient measures are not being taken to decrease consumption.
"This clearly indicates that people are ready for a change and are expecting the policymakers to do more" said Dr. Abdul Bari Khan, Chief Executive Officer, IHHN also noted that making tobacco products unaffordable comes under WHO guideline for tobacco control that Pakistan being a member, is obliged to follow.
Because the youth are more sensitive to the cost of goods, making tobacco products less affordable is likely to impact their consumption directly. A 30% increase in Federal Excise Duty on tobacco will result in 219,000 fewer smokers, 348,000 lives of future young smokers saved and PKR 19 Billion in additional total tax revenue.
As part of the initiative, VAT has launched a national petition asking for improved tobacco control policy, starting with a 30% tax increase on tobacco products. By signing the petition, supporters can push for greater measures for tobacco control, reducing consumption and protecting the health of Pakistani youth.
The Community survey shows the dedication and passion in our youth to work for the betterment of the future of Pakistan, now it is our time to help them realize their dream and work towards increasing the tax on tobacco products. The chief guest, Dr Nausheen Hamid, Federal Parliamentary Secretary, Ministry of National Health Services, noted as well that it is our duty and responsibility to provide a safer and healthier future for our youth to thrive in.