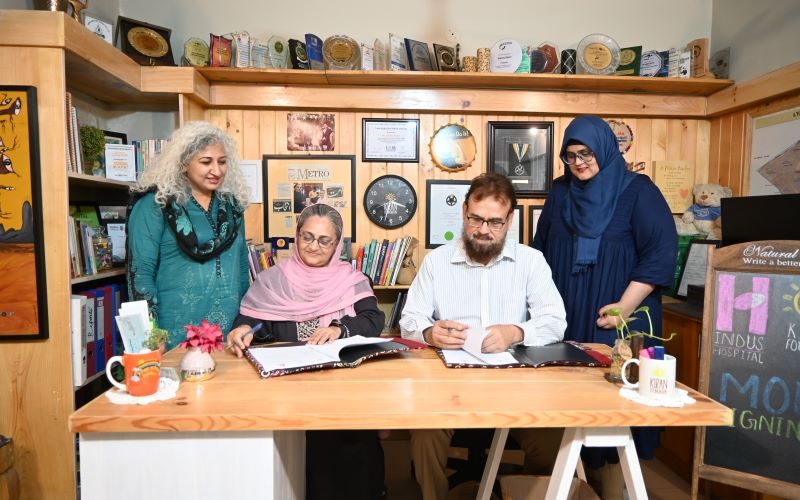 Voices Against Tobacco (VAT), an initiative of Indus Hospital & Health Network (IHHN), signed a Memorandum of Understanding (MOU) with Kiran Foundation this week. The MOU will facilitate anti-tobacco activities for marginalized youth and their parents in communities such as Lyari. With this partnership, VAT aims to expand the reach of its advocacy efforts against tobacco products and engage young people in taking proactive measures to eradicate their use.
Established in 2006, Kiran Foundation provides transformational education and holistic support in marginalized communities through an effective multi-tier framework, emphasizing prevention and intervention for mental health and emotional support for the family unit. In partnership with Kiran Foundation, VAT will work to further its aim of carrying out anti-tobacco activities amongst marginalized youth, thus empowering them and their families to avoid tobacco use and thereby lead a healthier, safer life.
Representatives of IHHN, including Dr. Abdul Bari, President of IHHN, and Dr. Saima Saeed, Director of the Lung Health program, met with the Kiran Foundation founder and team to sign the MOU and discuss further areas of collaboration.
"Traditional and novel tobacco products are a gateway for more harmful drugs, and with their increasing use, it becomes imperative to raise awareness and initiate preventive measures," said Dr. Bari. "By working with Kiran Foundation, we aim to empower the youth to become advocates for their communities and push for greater regulations on tobacco and nicotine."
In October 2022, VAT conducted a sensitization session at Kiran Foundation with over 60 students. The success of this session showed great potential for collaboration between VAT and KF. "Unwittingly many youngsters get involved in detrimental habits, creating a cycle of drug abuse and self-harm," said Sabina Khatri, Founder of Kiran Foundation. "To break this cycle, it is necessary to take early preventative measures such as sensitization and counseling."
VAT is an IHHN initiative aimed at creating a dialogue about the need for effective tobacco control measures in Pakistan. The initiative has launched a petition to ban the sale of all novel tobacco and nicotine products in Pakistan which has garnered 8,000+ signatures up-to-date, engaging with communities and youth to advocate for a cultural and economic change toward a tobacco-free future.
In the coming year, VAT will continue to raise awareness through advocacy and sensitization activities, having empowered more than 1,600 students to date. In association with partners such as Kiran Foundation, VAT will continue to engage youth to take proactive measures toward a tobacco-free Pakistan.