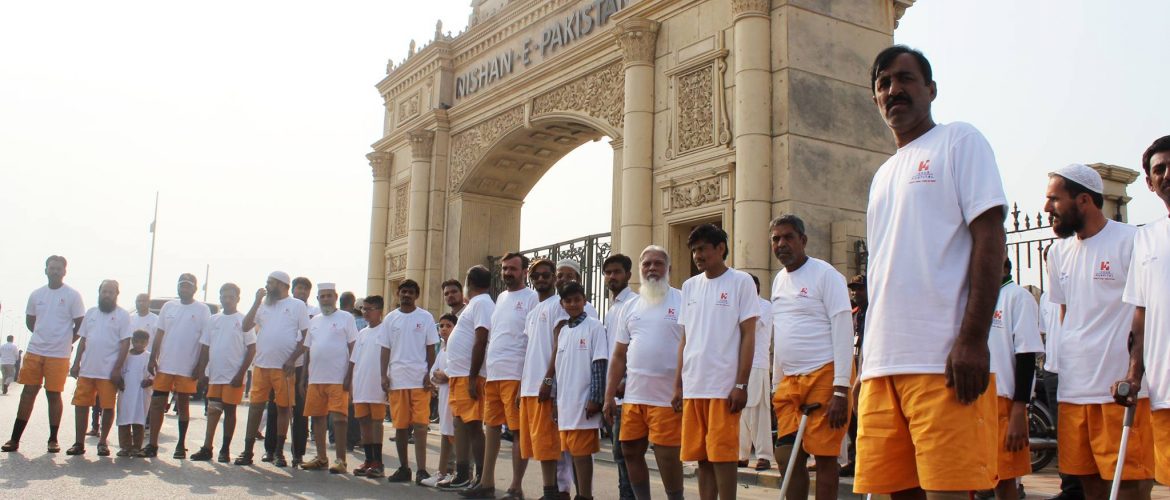 The Indus Hospital (TIH)'s Physical Rehabilitation Center organized a walk-a-cause to celebrate the International Day of Person with Disabilities (IDPD). Walk-a-cause was organized at the Sea View on December 10, 2017. The day was initiated by the United Nations in 1992 and this year's theme is "Transformation towards sustainable and resilient society for all."
Dr. Abdul Bari Khan, Chief Executive Officer, the Indus Health Network, Dr. Amin Chinoy, Executive Director, Physical and Rehabilitation Directorate, and patients along with hundreds of people participated in the walk.
While talking to the participants, Dr. Amin Chinoy, Executive Director, Physical and Rehabilitation Directorate, the Indus Hospital said,"Indus Hospital's only objective is to help people in living a healthy life even if they can't afford expensive medical treatments. Road accidents, polio, diabetes and other diseases can hamper one's ability to walk or perform their normal activities. We want people with disabilities to live normal and healthy lives."
Sixteen years old Shahroz Ahmed Siddiqui was part of the walk-a-cause. Shahroz met with a road accident in November 2015 and lost both of his legs. Shahroz is full of life and it seems he has bravely conquered the fear of disability. He said, "I went through a life-threatening accident. It was so tragic that me and my family lost almost all hopes of leading a normal life. But my family and friends supported me. The Indus Hospital helped me in literally standing on my feet. I don't consider myself disable, I'm just differently able."
Nazia Khan, Head of the Department, Physical and Rehabilitation Center said, "We can't imagine the agony of a person who is not able to walk, tie his shoes or jump out of the bed. Imagine a life without a leg. Thousands of people every day go through this ordeal. We, at the Indus Hospital are providing them with the help but the society has to support and include them as normal people. We have to realize they are also able but differently."
In 2015, the Indus Hospital established the Physical Rehabilitation Center with the support of International Committee of the Red Cross and Chal Foundation. The center provides orthotic and prosthetic limbs to patients with disability. The facility has also been extended to the
Shahbaz Sharif General Hospital, Lahore and Recep Tayyip Erdogan Hospital, Muzaffargarh. All three centers provide modern rehabilitation services to people with disabilities. These include prosthetics, orthotics, physiotherapy and mobility devices like wheelchairs and crutches. Karachi's Physical Rehabilitation Center has provided 600 prosthetic limbs and 2000 Orthotic devices so far.