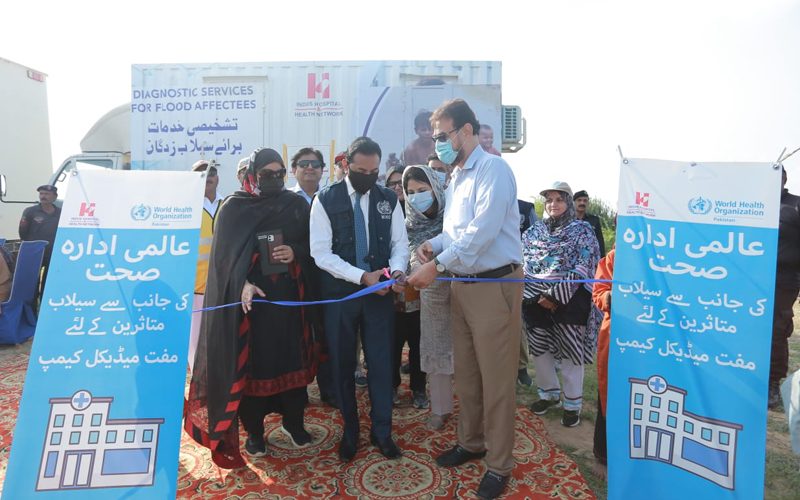 A flood relief medical camp and laboratory unit was inaugurated by Dr. Palitha Mahipala, WHO Representative and Head of Mission in Pakistan at Kari Mori, Jungshahi, District Thatta, Sindh. The medical relief unit, comprising of a primary care clinic, pediatric clinic, midwifery clinic, an antenatal clinic with immunization services, and a laboratory unit, will be providing free-of-cost emergency medical relief to the flood-affected communities in the region who, having lost their homes, are exposed to waterborne diseases and countless other health and safety risks.
Dr. Abdul Bari Khan, CEO, IHHN; Dr. Mah Talat, Executive Director of Community Health Directorate; and Dr. Sara Salman, Head of Office, Sindh, were also present to inaugurate the Indus Hospital and Health Network (IHHN) Flood Relief Medical Unit set up in the region.
The WHO is supporting the provincial government of Sindh for the relief of flood-affected areas by donating essential medicines, water purification tablets, facemasks and hand sanitizers, tents, mosquito nets, and fleece blankets.
Along with providing essential medical services and medicines to more than 400 patients, 18 mental health counselling and community awareness sessions were conducted at the camp. Dr Mahipala and IHHN team distributed hygiene kits amongst the flood affectees.
Moving forward, IHHN plans to set up additional disease-specific camps in other affected regions throughout Pakistan.
Click here for more information about IHHN's emergency flood relief response.