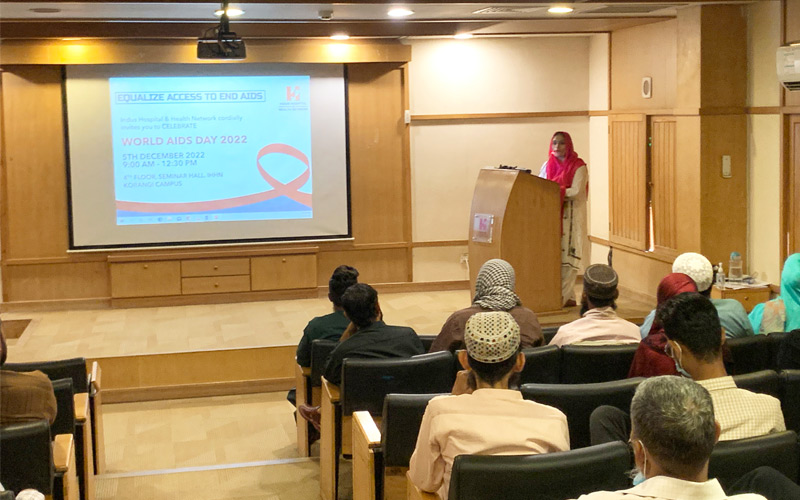 Indus Hospital & Health Network celebrated World Aids Day with HIV-positive patients and their families at the IHHN Korangi Campus, Karachi, on December 5, 2022.
The event was held to equalize access and support for all current and potential HIV-positive patients by empowering them with the belief that they can live a normal stigma-free life after receiving the treatment.
In attendance were 45 patients and their families, the medical staff of IHHN's HIV program, Dr. Naseem Salahuddin – Director – of the Department of Infectious Diseases, and notable non-profit organizations working with the critical population affected by HIV such as Humraaz, Parwaaz, Nai Zindagi Trust, and Gender Interactive Alliance.
Many HIV-positive patients came out with their stories. They appreciated Indus Hospital's role in providing medical treatment and mental rehabilitation, which has allowed them to return to their lives as healthy members.
On this occasion, Dr. Naseem Salahuddin remarked, "Improvement in HIV's treatment is only possible if you believe in yourself and treat HIV as a serious condition. Only with consistency in taking timely medication can we hope to defeat HIV once and for all".
World Aids Day takes place annually on December 1, providing people with a chance to unite in the battle against defeating HIV and to raise a voice against the stigma attached to HIV-positive patients.