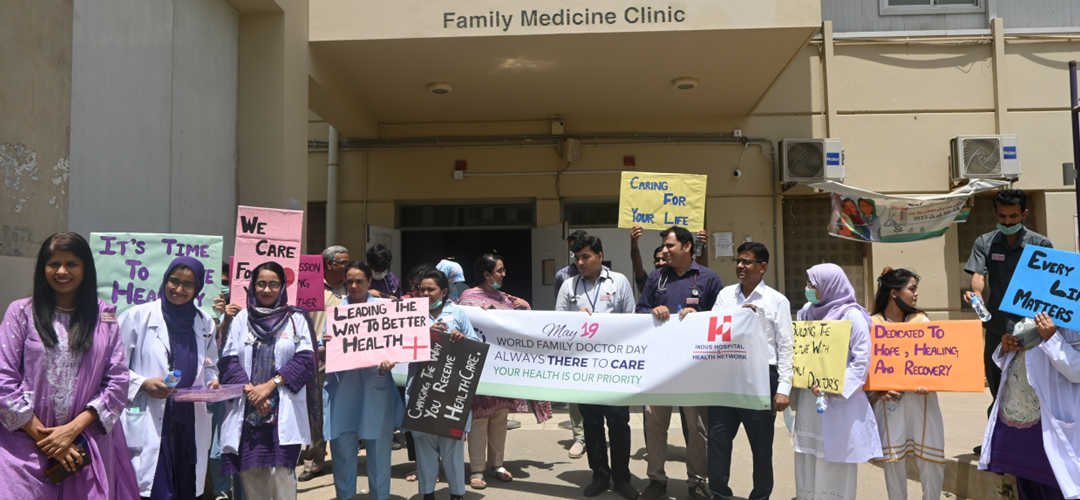 Indus Hospital & Health Network (IHHN) celebrated Family Doctor Day at the Korangi Campus, Karachi, on May 19, 2022. Organized by the Family Medicine Department, a daylong activities were held to highlight the role and contribution of family doctors and primary care teams in health sector.
The World Organization of Family Doctors (WONCA) first declared World Family Doctor Day in 2010. It has become a day to highlight the role and contribution of family doctors and primary care teams in healthcare systems worldwide.
Focusing on the theme of "Your Health is our Priority," the healthcare professionals from Family Medicine service line conducted awareness presentations for patients and their families on the importance of healthy diet and regular exercise, combatting mental health issues, and other healthy lifestyle advice. These interactive sessions provided the patients a platform to discuss their queries and concerns first hand with the Family Medicine healthcare professionals.
Other activities throughout the day included an awareness walk on campus attended by patients, healthcare professionals, and senior management of the Hospital. Four stations were set up to check BMI and Blood Sugar of patients and staff. One on one counselling sessions were also conducted to help the patients and staff to improve their lifestyle.
The Korangi Campus treats 200-300 patients daily at the Family Medicine clinic. There are currently 22 specialists and 18 residents who work on the frontline. Positioned as the first point of contact for patients arriving at the Hospital, they serve an essential role in diagnosing and treating patients and referring them to the required specialist.
Recognizing the significance of Family Medicine services, IHHN has set up a network of primary care program for underserved communities throughout Pakistan. Through its facility based Primary Care Centers, Container-based Community Health Centers and Pakistan's first Boat Clinic, IHHN has managed to reach out to women and children and many marginalized communities to provide them family medicine services near their homes, absolutely free.