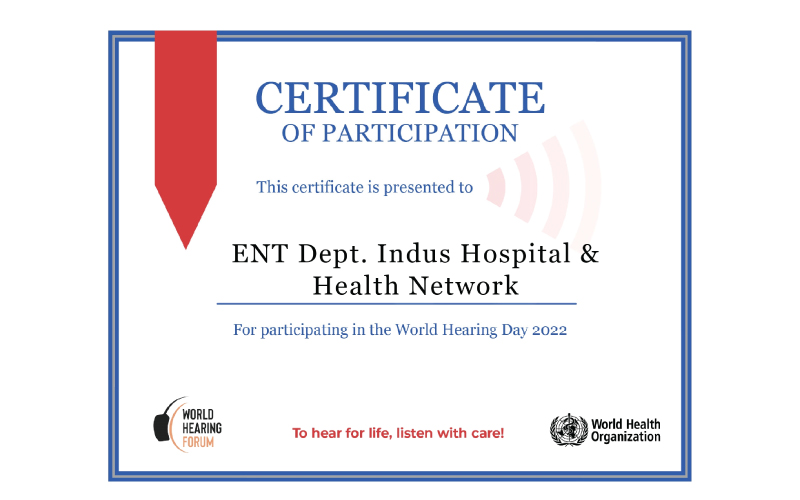 World Hearing Day 2022: To Hear for Life, Listen with Care
IHHN celebrated World Hearing Day during the month of March. Emphasizing on the global theme, "To Hear for Life, Listen with Care", several activities were conducted by the ENT Department at various campuses of IHHN and at TDF Magnifiscience Centre. A certificate of appreciation was awarded to IHHN by WHO and the efforts IHHN towards spreading awareness about safe hearing were documented in WHO's Annual Report (hyperlink the report).
Initiating from the Korangi Campus in Karachi, the Department of ENT conducted screening tests for hearing loss for the employees and patients visiting the campus. Another screening camp was conducted at the District Headquarter Hospital, Badin to screen adult patients and new borns.
IHHN also partnered TDF Magnifiscience Centre, an interactive science museum, to host six awareness sessions for around 400 school children visiting the museum. Experts from IHHN educated the children about the safe listening and disadvantages of listening to loud sounds. In addition to this, Dr Asif Arian, Consultant, ENT Department, IHHN and Ms Tabassum Naz, Audiologist, ENT Department, IHHN appeared on ARY News and PTV News to talk about World Hearing Day and the issues with our communities with noise pollution.
Furthermore, Dr. Lokman Saim,  Vice Chancellor of KPJ Healthcare University College and the Dean, School of Medicine, Malaysia, visited IHHN for Cochlear Implant Surgeries assisted by Dr. Asif Ali Arain, Dr. Anjum Naveed & Dr. Shakil Akhter Ansari. He has partnered with Indus for several years and has served in a mentorship role for several of IHHN's doctors and medical staff.