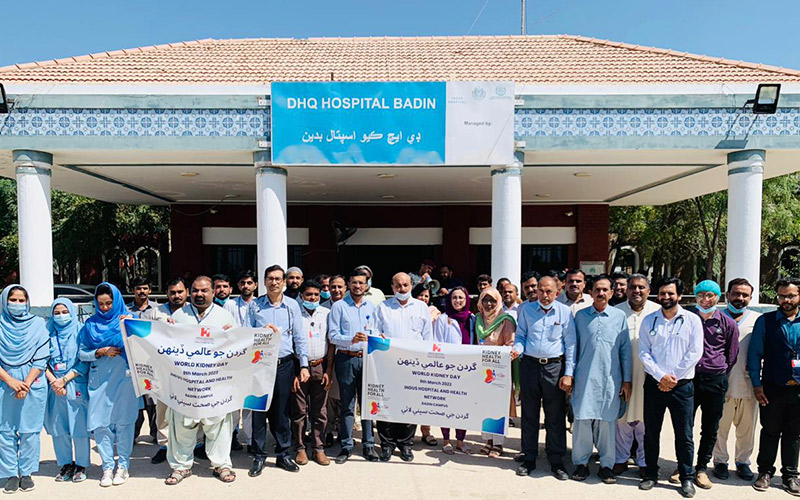 In view of the international theme of World Kidney Day 2023, "Preparing for the unexpected, Supporting the Vulnerable", the Nephrology department of The Indus Hospital, Korangi Campus, conducted several celebratory activities at District Headquarter Hospital, Badin, on March 9, 2023.
The event was well attended by the local community, and staff of DHQ, Badin Campus.  The event started off with a Walk-a-Cause, which was followed by a lovely cake-cutting ceremony. Dr. Shahnawaz Ikram, Head of Department, Internal Medicine Department, welcomed the audience and gave opening remarks. Civil Surgeon, Dr. Mir Ali  Akhter Talpur was the chief guest at the event.
Several faculty from the Nephrology Department also delivered general awareness talks on the causes, prevention, and management of chronic kidney disease in adults and children. Speakers included, Dr. Shoukat Memon; Dr. Javeria Chughtai, Pediatric Nephrologist; Dr. Farhana Aman Ullah; and Senior Medical Officers Dr. Rabia Javed and Dr. Qasim Ali Chang.
Following this, hemodialysis patients in the audience were given the opportunity to share their experiences and concerns regarding kidney health with the hospital administration and nephrology faculty.
The ceremony was concluded with closing remarks given by the Chairperson of IHHN's Nephrology taskforce.