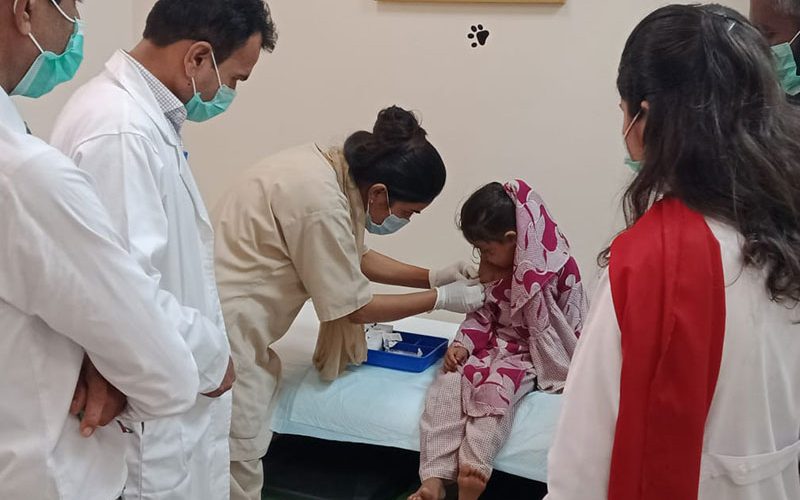 World Rabies Day is commemorated globally on September 28 every year, with the United Nations aiming to spread awareness and remove misinformation regarding the disease. This year marked the 15th year since it was first celebrated, with the theme for 2021 being "Rabies: Facts, not Fear." This disease plagues almost all Pakistan, and it has resulted in Pakistan ranking amongst the three worst rabies epidemic countries in the world.
Indus Hospital & Health Network (IHHN) took several initiatives on this day to help combat the deadly disease and further the theme of providing facts and awareness. Hundreds of flyers were distributed ahead of the awareness sessions that provided guidelines and advice for the general public. Rabies Free Pakistan, a joint venture by Getz Pharma and IHHN, led the event and gave key messages about basic hygiene and receiving medical attention immediately upon being infected. The facilitators advised to keep the environment clean, and children were discouraged from provoking street dogs to avoid being bitten. It was an interactive experience as several people came forward with their experiences, questions, and concerns.
Lectures on Rabies post-exposure prophylaxis (PEP) and hands-on training for Post Graduate Medical Education and Healthcare workers were also conducted, with over 100 participants in attendance.
It was followed by a press conference at the Karachi Press Club with a Q&A session with several media outlets and concluded with a radio appearance and awareness sessions inside hospital campuses, street gatherings, and schools. The awareness sessions continued throughout the week and were designed to address school students and local communities by the Rabies Prevention Center and Rabies Free Pakistan field teams.
Since 2008, IHHN's state-of-the-art Rabies Prevention and Training Center at the Korangi Campus has treated over 50,000 patients infected with rabies, with some of the leading experts in the field taking an active role in achieving the goal of eradicating this deadly disease and making Pakistan Rabies free.