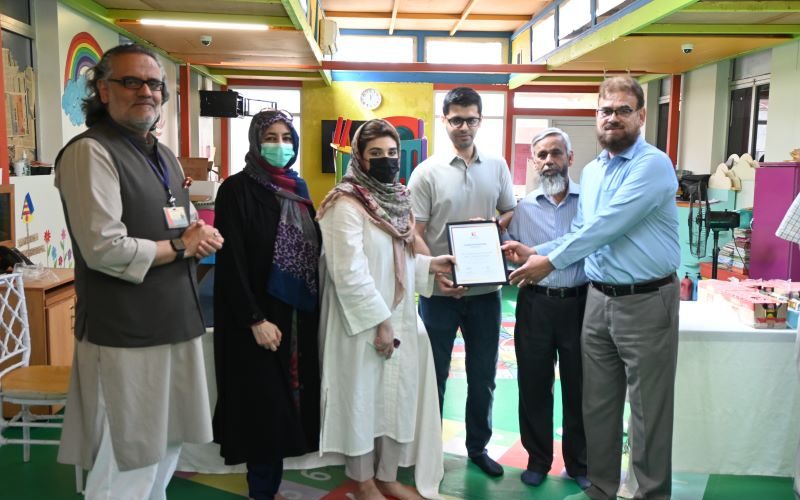 Indus Hospital & Health Network (IHHN) would like to extend its heartfelt gratitude to Zahran Children's Foundation for hosting an exciting and fun-filled event for the pediatric cancer patients at the Indus Hospital, Korangi Campus.
President, IHHN, Dr. Abdul Bari Khan, Executive Director Medical Services, Dr. Muhammad Shamvil Ashraf, Executive Director, Communication & Resource Development, Syed Mashhood Rizvi, General Manager, Clinical Affairs, Dr. Ahsan Jamil and Consultant, Pediatric Oncology, Dr. Ahmer Hamid were also present at the occasion.
The event was held in loving remembrance of Zahran, son of Mr. Hassan bin Zahid, Director of Nadeem Textile Mills, and his wife, Mrs. Shafia Hassan. The two are founders of Zahran Children's Foundation – a charity organization raising funds for the treatment of children with cancer at IHHN.
Supporting IHHN since 2021, the Zahran Children's Foundation has sponsored the complete treatment cost of 39 children with the following types of cancer: germ cell tumor, acute promyelocytic leukemia, B-cell acute lymphoblastic leukemia, acute lymphoblastic leukemia, Hodgkin's lymphoma, and Wilms' tumor. To date, over 15 sponsored children have completed their cancer treatment and have fully recovered.
Held on Zahran's birthday, the event took place in the hospital's pediatric play area and featured a variety of activities that the children thoroughly enjoyed. These included live pottery making and painting, sand art, superhero cape making, nail art, and face painting. Over 60 pediatric cancer patients were in attendance. Each went home with the arts and crafts they created, as souvenirs of the lovely day spent at IHHN. In addition, Zahran Children's Foundation distributed snack boxes to over 250 children currently undergoing treatment at the hospital.
Speaking at the occasion, Mr. Zahid said, "We started with Indus hospital and health network a year ago when our son passed away from cancer. Since then, we've been with Indus and they have been supporting us. The experience has been really smooth. For now, we have already supported 39 children through the ZCF fund. Our aim is to at least get to one hundred this year, God (SWT) willing."
Mrs. Shafia Hasan went on to say, "We wanted to throw a little party for his (Zahran) fellow oncology children, and the smiles on their faces really made my day. My message to all bereaved parents is that the pain doesn't go away; you just learn to live with it. Giving back really helps."
Dr. Bari and Dr. Shamvil thanked Mr. Hassan and Mrs. Shafia for their being part of IHHN's cause and prayed for the eternal peace of their dearly departed son's soul.
Indus Hospital & Health Network is proud to call Mr. Hassan bin Zahid and Mrs. Shafia Hassan ambassadors of its noble mission of providing quality care to every child in need. In collaboration with IHHN, their generosity and compassion have helped restore much-needed hope and comfort in the lives of countless innocent children and their families.