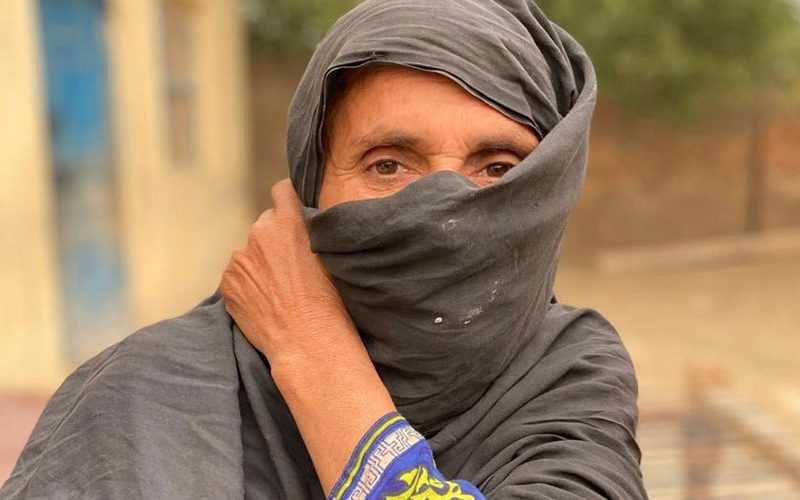 "I felt no medicine had a cure for my body pain, stomach ache, and fever. I had almost given up on living a healthy life until that one door knock by health workers from Indus Hospital changed my life and health for the better."
Sakeena Bibi is a 45-year-old-woman who grew up amidst a large joint family of farmers in rural Sindh. Sakeena had visited a clinic in her area to get a glucose drip where sanitation procedures for injecting the needle for a drip were not in place. Soon after, she started experiencing fever, stomach ache, and overall body pain that did not seem to subside through medicines.
"I tried getting medicines from another city, hoping my mother's pain would subside, but her condition only worsened." Said Ahmer, Sakeena's eldest son.
Over the next few weeks, Sakeena Bibi's health kept on deteriorating. She started struggling with performing the simplest actions, such as walking and communicating while completing her chores, and noticed that her legs had swelled up and her speech was becoming slurred. Fatigue became her constant companion, along with a loss of appetite.
One fine cloudy morning, a team of female community health workers from Indus Hospital Al Ghazi Trust Campus, Bhong (located in Rahim Yar Khan, a rural area of Punjab), knocked on Sakeena Bibi's door. That was the moment when her life changed for the better.
Sakeena Bibi welcomed this team of female health workers into her house, not knowing that her journey towards better health had begun. The health workers had come to raise awareness about hepatitis B and C. When Sakeena heard that the Hepatitis C virus spreads through exposure to blood in unsafe injection practices, she had flashbacks of the time she visited the clinic where the medical staff was not following sanitation protocols on needles.
Realizing the connection between her symptoms and what she observed at the clinic, she decided to voice her concern to the team of health workers, who immediately conducted her test on the spot. To Sakeena's shock, the test came positive for hepatitis C.
She was immediately referred to the Indus Hospital Al Ghazi Trust Campus, Bhong Punjab. However, Sakeena Bibi feared that she could not afford the healthcare cost, which would amount to RS. 500,000 with an average income in her community ranging up to RS. 25,000. She was pleasantly surprised when the health workers informed her that Indus Hospital Al Ghazi Trust Campus provides free-of-cost treatment to everyone.
Not believing what she had just heard, Sakeena Bibi embarked on her journey to the hospital.
'When my treatment started for hepatitis C, I never thought I would receive such quality healthcare without paying a single rupee. From the nurses to the doctors, all invested their time in taking care of me. When my family visited me, I told them how caring everyone here is. I would recommend Indus Hospital Al Ghazi Trust Campus, Bhong, to everyone in my village, so everyone can get themselves tested at least once for hepatitis."
Like Sakeena Bibi, millions of people in Pakistan are suffering from hepatitis B and C but are unaware of the disease and remain undiagnosed.