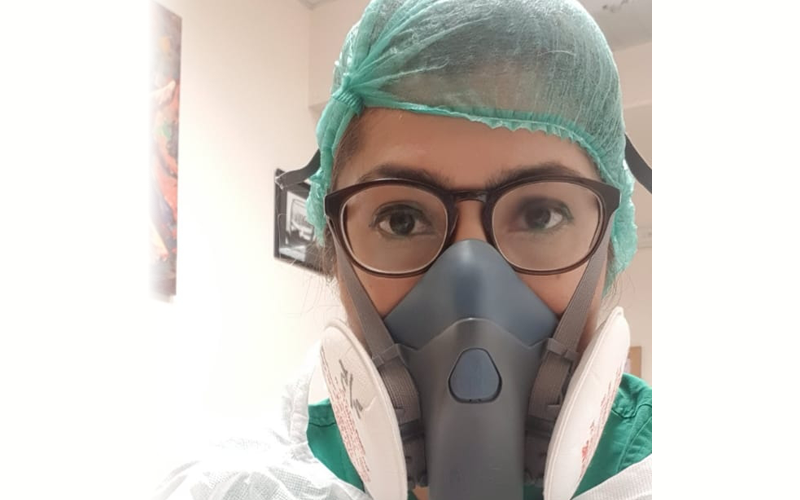 Dr. Sama Mukhtar
Associate Consultant Emergency Medicine, Indus Hospital.
My kids call this device Star Troopers-inspired. Try breathing through it, live a day through it, periodically lift it off the nose because you don't want to risk fracturing your nasal septum. 3M Is the new LV!!! The prismic pressure bruise left on the face is something to live by.
It never crossed my mind that I shall live through a pandemic. Never had I imagined that we would be making history in 2020 for the next generations to come. Amidst what is the new norm, I have spent the last nine hours trying to arrange beds for the sickest COVID infected patients and have failed. Why? Because the beds are full to occupancy in this city of lights.
I should dial up a few more times before I call it a day. It's music to ears when a bed is vacated and a patient goes home healthy; given a clean chit of health.
We have come to a point when we feel, no matter how the bed has vacated, the empty bed might save another patient. I wonder how this virus has turned our lives a 360 degree turn. Timely curbing the COVID pandemic in its early stages would have eased the burden on the resources. Are we ready to bear the brunt of our callousness? The Hippocratic oath put a responsibility on our shoulders to hold guards as the front liners. We are not Marvel superheroes!! Don't glorifying us. Act responsibly and instill the same in those around you. With renewed hope! Bring hope for those fighting for air! Hope for those fighting to breathe or those who are breathing their last.