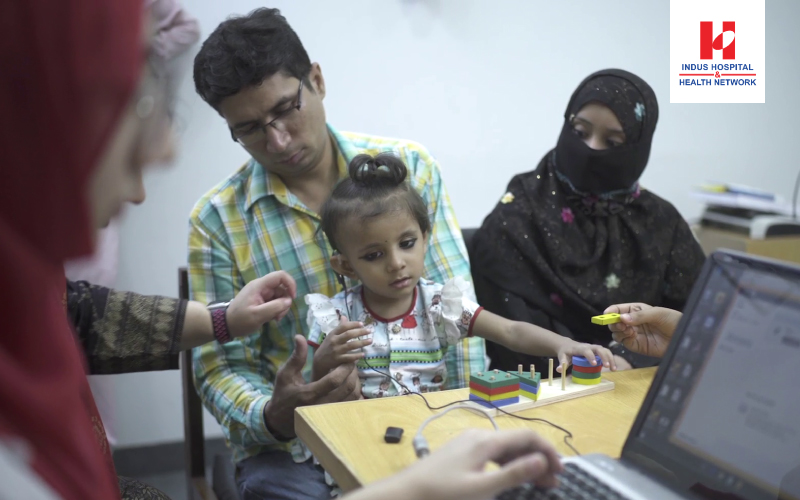 When she was only seven months old, Aiza's parents began to notice that she would not react to loud noises. She would continue sleeping through the ruckus in her home and would not respond to the voices of her family members. Heartbroken upon discovering that she was born with a hearing disability, Aiza's parents worried about her future quality of life.
Aiza's parents began seeking treatments for her and soon learned that she required a cochlear implant device. Unfortunately, their relief was only temporary, as they discovered that the surgery cost over Rs. 40 lakhs. Unable to afford the treatment, they sought the advice of their friends and family. Numerous sources recommended Indus Hospital and Health Network (IHHN), who were told they would receive the treatment free of cost.
After her initial surgery at IHHN, Aiza was called back for her "Switch On" day. Her parents' nervous anticipation was palpable as they entered the clinic with their daughter. Filled with hope, they murmured prayers for the process to go smoothly.
As the cochlear implant was switched on, Aiza looked about in visible confusion. Her eyes started to tear up as she was overwhelmed with the wonders of hearing for the first time. She pointed to the adults around her, questioning the new sensation. The audiologist and speech therapist present for this momentous occasion guided Aiza's parents through the process, patiently explaining each step.
Receiving the cochlear implant device is merely the first step in Aiza's journey; she now begins speech and hearing therapy. Aiza will learn how to react and respond to basic sounds and eventually learn full words and sentences. In due course, with vigorous effort and extreme determination, Aiza will be able to speak on her own.
Aiza is only one of 18 thousand children born in Pakistan with a hearing impairment. With the vision of "Hearing for All," the IHHN Cochlear Implant program believes that no child should be deprived of the ability to speak and hear merely because their family cannot afford the procedure. Aiza's future has been enriched by the program, and she now begins the journey to a better life.