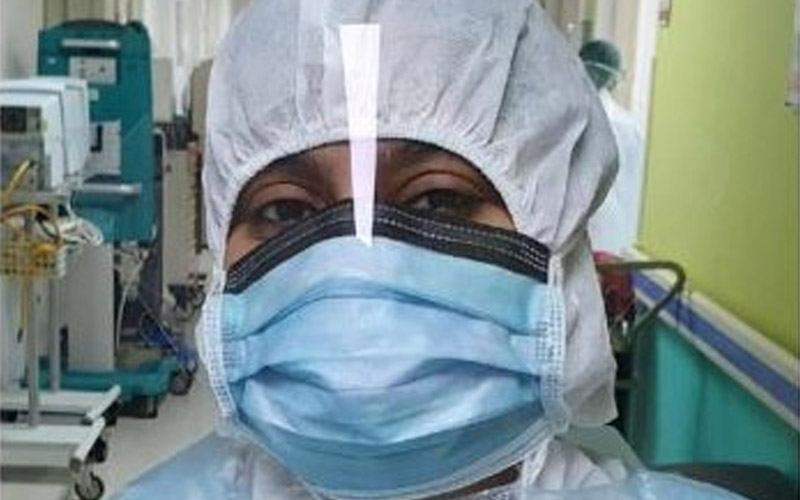 "She is going, blood pressures and oxygen are not responding on maximum drugs and ventilatory support, her peripheries are cold and blue. Her pulse is falling", the team working endlessly on the patient throughout the night.  
Doctor, "Let her go, we have tried everything. Cardiopulmonary resuscitation will not achieve anything and increase the risk of aerosolization and exposure to health care workers". Straight line……. "Please wrap the body with all precautions after disinfecting".  
Outside: "I am sorry your mother is no more, we did everything possible". Son sadly with tears in his eyes, "Can I please have a look at the face of my mother? Haven't seen her since 5 days, since we brought her here".  
"No! it's too dangerous, and now her body has been wrapped. And you will not be able to see her. The police will accompany the body for burial and her last rights will be done with only a couple of people. Your father and anyone above 60 years cannot be a part of it… to prevent getting infected", I narrated almost mechanically.  
Son crying yet politely; "Can you please at least, take her picture, my two sisters at home are in despair". I looked at his face and his father standing at a little distance in utter quietness and gloom, suddenly I felt something heavy in my throat, I took his mobile, wrapped it in plastic and gave it inside, "Please unwrap a part of the face and take a couple of photos of the face". The staff despairingly, "But we have double packed her, will have to undo the whole!". "Please, I understand, but can you imagine they will not be able to see her ever again, she is their mother!" 
Fast forward to one and half months, there is only darkness, there seems to be no end to the tunnel, feeling lost, at times impartial, robotic. "Doctor patient Umer 36 years has expired", half an hour later, "Shakeel 65 years is down", 1 hour later 'Adnan 38 has died and Mehmood is not too good, dropping saturation's'. Frantically, "can you please call the biomedical and ask them to check the Oxygen supply!" I knew this was lame as all critical patients were expected to go anytime, but I was trying to hold on to the sand slipping from my hand.  
Back to reality… Urgently, "Need to vacate the beds as soon as possible, hand over the body and ensure bed is cleaned. Our Emergency department is on diversion with critical patients waiting for admission have to save them". Then the phone rang, shakingly I picked it up, " Anesthesia on call here. We have Alhumdulliah succeeded in getting Ahmed off the vent, after 22 days and he is doing fine!" …. Tears roll down my face, exhausted and tired, more so emotionally, finally a glimmer of hope.  
"Bravo! Team", I message on the group, where representative of all the dedicated teams have been collaborating 24/7 to make things work. The nursing, biomedical, physiotherapy, pharmacy, lab, housekeeping, clinical service support group, security, nutrition, doctors and residents and many more. 
The woods are lovely, dark and deep, 
But I have promises to keep,  
And miles to go before I sleep,  
And miles to go before I sleep. 
Robert Frost