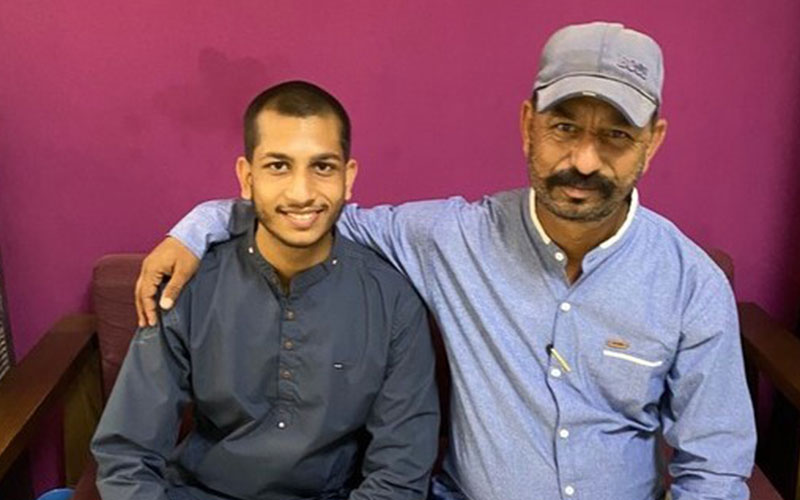 It was a pleasant Saturday morning at the Army School of Physical Training. Seventeen-year-old Saim was preparing for a football match when severe, throbbing pain in his back made him collapse. The football coach immediately sent him home and told him to get some rest.
When Saim's father came home, he was surprised to find his son in bed. "How was an army kid allowed to come home?" he asked his son. When Saim told him about his back pain, his father physically examined him. He sensed a lump on his body and immediately rushed to the hospital. That day, Saim's life changed forever.
After several hours of running around after doctors and nurses, a CT scan was finally scheduled and the doctor told Saim's father that he needed a biopsy at another hospital. Saim's father, a technician who works with water filtration plants collected whatever little savings he had to get a biopsy for his son on an immediate basis.
Saim was diagnosed with bone cancer. When Saim's father went to ask the hospital to admit him, their heartlessness broke him.
"They just conducted a lot of tests, told me that my son had cancer and chances of survival are negligible. I kept running after them but they treated me like I was not human. They just gave me a long bill for his tests and refused to admit him without an advance deposit. How was I supposed to bring so much money suddenly? My whole world crashed before me."
A relative who worked as a doctor told Saim's family to try their luck at Indus Hospital, Korangi Campus Karachi. Although IHHN only provides treatment to childhood cancer patients, they admitted Saim upon seeing his severe condition. Saim's cancer treatment began on an immediate basis.
Since he was the oldest person in the whole ward, he would often spend his time looking at other patients' stories and videos on his mobile.
"I would scroll through Indus's website. Watch videos of cancer survivors. It gave me hope in the darkest time of my life. When I had long chemotherapy sessions, I remember I felt utterly hopeless. But Nafisa and Hadia Baji (mental health counselors at Indus Hospital) would always be there for me. Giving me hope, telling me to be brave"
Saim was declared cancer-free after one year of treatment. Unfortunately, he had to drop out of the army program because of his illness. He is now studying Pre-Engineering and hopes to work like his father as a Water Treatment Engineer. He and his family are grateful to Indus Hospital for providing free cancer treatment to him.
"I don't know what would have happened to me if Indus Hospital wasn't there. I will be eternally grateful to them for giving me a new life. I can say with conviction that there is no other hospital like Indus in the whole country"