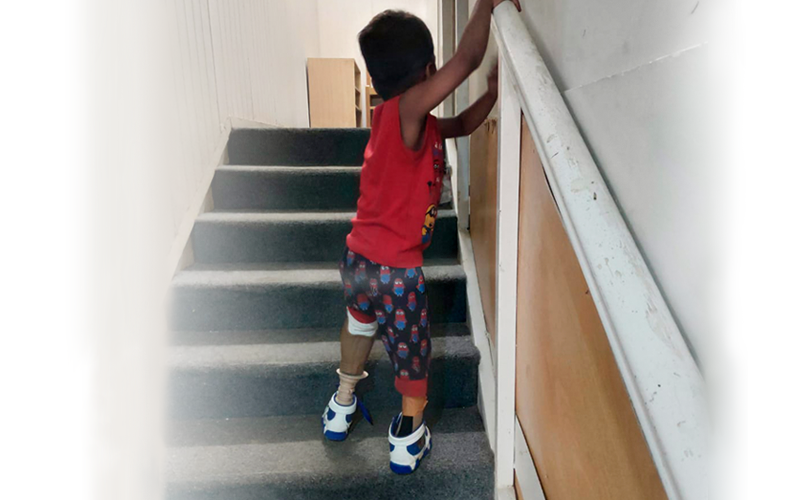 Three-year-old Abdul Ahad had been on his way to a wedding with his family when he met with a terrible traffic accident.
A truck collided with his father's bike, killing his brother and injuring his mother and another brother. Ahad himself was severely injured with both his legs crushed.

Ahad went through extensive surgeries but he couldn't walk again without prosthetics. Faced with severe financial strain, given the surgeries that Ahad, his mother, and brother went through, the family was struggling to seek treatment and artificial limbs for him. His father, a bangle-maker from Hyderabad could hardly make ends meet and with this new revelation started looking at other avenues for his son, who needed prosthetic legs to walk again.
Then a neighbor recommended that Ahad be taken to The Indus Hospital as the hospital's Physical Rehabilitation Center provides free artificial limbs.
Once he was brought to The Indus Hospital he was immediately taken into care. A week later he was given a pair of prosthetics legs and was ready to practice walking.
Now Ahad, five-years-old is walking again and can resume his activities without anyone's help.
Road safety has been a rising global concern over the years. According to WHO, approximately 1.35 million people die each year as a result of road traffic crashes. It is one of the leading causes of death for children and young adults between 5-29 years.
To date, the Indus Hospital's Physical Rehabilitation Centres have provided more than 6,772 prosthetic limbs, and more than 7,311 orthotic devices at its four centers in Karachi, Lahore, Muzaffargarh, and Badin.