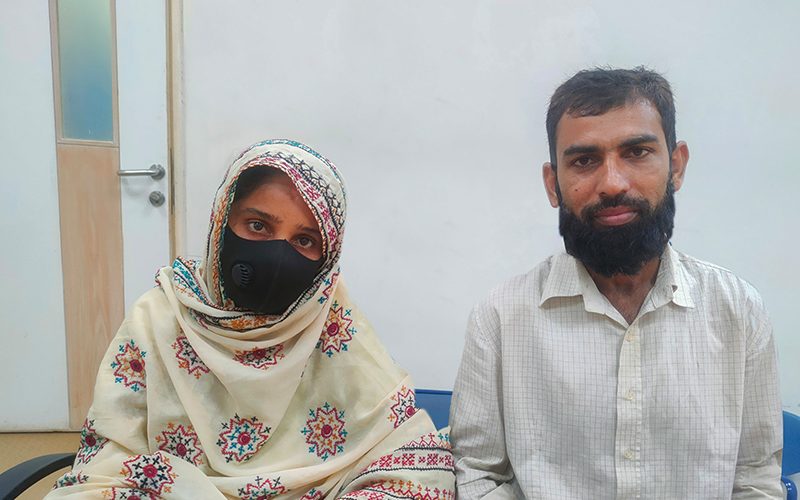 "We had given up all hope. Sabeeha had been on the ventilator for twenty-six days, and she was in a coma for nine days. Everyone in the family told me that people on a ventilator never return to life. But the doctors at Indus Hospital, Korangi, did not lose hope nor let me lose hope."
Sabeeha, a mother of four children in her mid-thirties, had been facing weakness, constant body ache, and loss of appetite and weight since she moved to Karachi with her family from Jacobabad. As a housewife, she managed household chores singlehandedly while her husband worked as an electrician.
Seeing the deteriorating health of Sabeeha, Fazal took her to a local clinic–the doctor attributed her weakness to the heat wave. On June 30, 2022, tragedy struck Sabeeha when Fazal could not wake her up in the morning and found her unconscious and barely breathing. He rushed her to Indus Hospital, Korangi Campus, as it was the nearest tertiary care hospital from his home.
The paramedic staff at ER immediately took the action of resuscitating Sabeeha. After conducting diagnostic tests, they detected that she was suffering from Diabetes Type-I, which had developed a blood clot in her brain.
"I did not know how I would bear the cost of Sabeeha's treatment. To my surprise, no one came or asked for a single penny. When I asked the doctor how much will I have to pay, the doctor held my shoulder and smiled and said, just pray for your wife, and we will take care of her treatment. No money is required, only your prayers." Wiping his tears, Fazal clasped his hands, looked upwards, and said, "The staff at Indus are just like angels. They kept giving me hope and continued to care for my wife with as much love and respect as if she were their sister."
After being hospitalized for more than seven weeks, Sabeeha was finally released and enrolled in Indus Hospital & Health Network's Diabetes Management Program. She is now being provided insulin treatment for diabetes and has regular follow-ups with an Endocrinologist, where she receives counseling on nutrition and lifestyle modification.