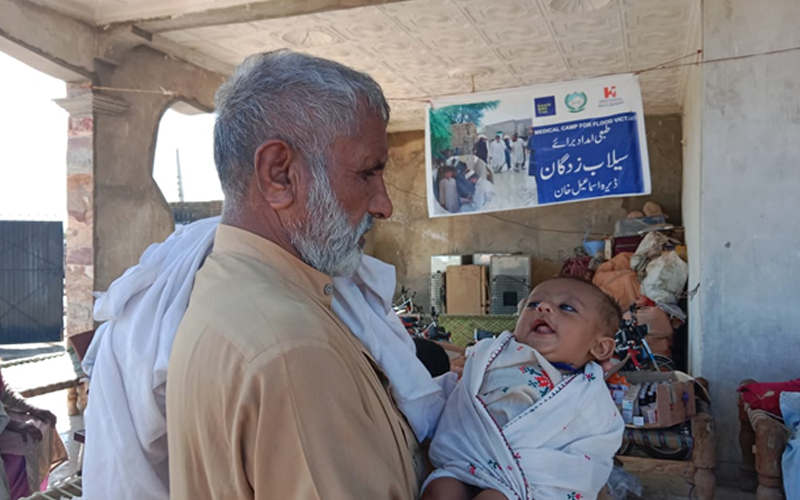 It took only a few hours for the flash floods in Dera Ismail to ravage the entire village of Kot Walidad. Amongst the many flood survivors who have been displaced by the massive flashfloods and are now in relief camps is Jami Siddique-a farmer from Kot Walidad.
"I watched my entire village getting destroyed right before my eyes. It was midnight and I was sleeping but screams and shouts in my area woke me up. I woke up my son and daughter-in-law and told them to rush to the roof. I grabbed my nephew and rushed upstairs to join them. We watched in horror as the floods ravaged our village. The house that I built with my own two hands, the fields where I worked everyday-it all swept away in front of my eyes. We were helpless"
The water entered Jami's house and destroyed all his belongings. It was only when an army helicopter arrived that his family was saved. They were then transported to a relief camp in the vicinity. When Jami arrived at the medical camp of IHHN, he was barefoot, his clothes were tattered and he was unable to speak coherently. The mental and physical trauma of the ordeal he had been through had taken a toll on his body. The IHHN team immediately administered a physical checkup to make sure his vitals are doing well. He was provided a kit which included clothes, dry food items and ORS. The doctors at IHHN also looked after Jami's six-month old nephew who had been unable to feed for two days.
There are hundreds of people like Jami who have become homeless overnight and are in dire need of medical, nutritional and hygienic support. The climate disaster has led to a nationwide health emergency. IHHN is not only providing shelter and survival kits to the flood survivors but also setting up medical camps to prevent outbreak of diseases in flood-impacted areas.
Your donation provides relief to countless others like Jami who have become refugees overnight in their own country.
Do your part now and donate to us on the following:
Direct Deposit:
MCB Islamic Banking
A/c title: Indus Hospital & Health Network
#Zakat: PK75 MCIB 0011 0001 8963 0001
#Donation: PK91 MCIB 0011 0001 8963 0004
Habib Metropolitan Islamic
A/C: Indus Hospital & health Network
#Zakat: PK 42 MBPL 9964 1771 4015 2233
#Donation: PK 20 MBPL 9964 1771 4015 2241
For doorstep collection: 021/042 111 111 880